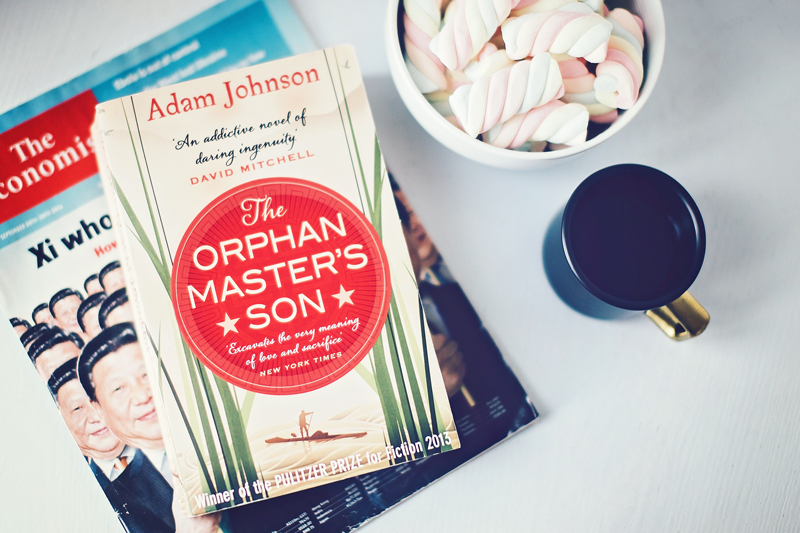 "Good morning citizens! In your housing blocks, on your factory floors, gather round your loudspeakers for today's news: the North Korean tabletennis team has just defeated its Somali counterpart in straight sets! Also, President Robert Mugabe sends his well wishes on this, the anniversary of the founding of the Worker's Party of Korea. Don't forget, it is improper to sit on the escalators leading into the subways. The Minister of Defense reminds us that the deepest subways in the world are for your civil-defense safety, should the Americans sneak-attack again. No sitting!"
As I was planning my move to South-Korea this summer I started looking for books that would give me some insight into both South Korea, and the world on the other side of the DMZ. While browsing the recommended section of books at Schipol Airport in Amsterdam (one of my favorite airport bookstores, their selection is small but always fascinating), I found this book and brought it with me to Seoul.
Johnson paints a realistic, romantic, tragic, witty and horrific picture of life in North Korea from the perspective of Park Jun Do, an orphan turned tunnel-assassin. Jun Do's story has a Jonas Jonasson-feeling (The Hundred-Year-Old Man Who Climbed Out of the Window and Disappeared) to it, in the sense that he gets to experience more extraordinary things than what seems plausible in the real world. However, this narrative stroke offers us an insight into the many layers of North Korea's social structure, from prison camps to the life of the elite of Pyongyang.
The story is told in 3 different ways, the major narrative following the perspective of Jun Do, while the story is paralleled by broadcasts from the Korean propaganda machine, and the occasional insights into the life of a nameless interrogator from Pyongyang. We also meet the hero Commander Ga, the beautiful actress Sun Moon and Dear Leader Kim Jong-il, in addition to fishermen, prisoners, orphans and soldiers, as Jun Do goes from being an orphan to a national hero (sort of).
"I wonder of what you must daily endure in America, having no government to protect you, no one to tell you what to do. Is it true you're given no ration card, that you must find food for yourself? Is it true that you labor for no higher purpose than paper money? What is California, this place you come from? I have never seen a picture. What plays over the American loudspeakers, when is your curfew, what is taught at your child-rearing collectives? Where does a woman go with her children on Sunday afternoons, and if a woman loses her husband, how does she know the government will assign her a good replacement? With whom would she curry favor to ensure her children got the best Youth Troop leader?"
Humorous, intriguing and horrifying summarizes this book for me, and arguably the world's relationship with North-Korea. Media coverage of the hermit state usually covers those three themes, by reporting on the incredulous statements made by state networks (see: Kim Jong-un discovering a unicorn lair in Pyongyang), or the horrific crimes committed in gulags across the nation. While reading this book I had to remind myself from time to time that this place actually exist mere hours from where I was sitting, not in some make-belief, post-apocalyptic dystopian future.
The novel deals with topics ranging from love, family values, interpersonal relationships and sexuality, to ideas of truth and autonomy in a world where both are controlled, molded, distorted and fabricated by the state. And it does it beautifully.
If you want a fictitious view (based on an impressive amount of real facts) on how life is like in North Korea, sprinkled with elements of adventure, thriller, drama and romance, this is most definitely a book that should be on your "to read"-list this year.