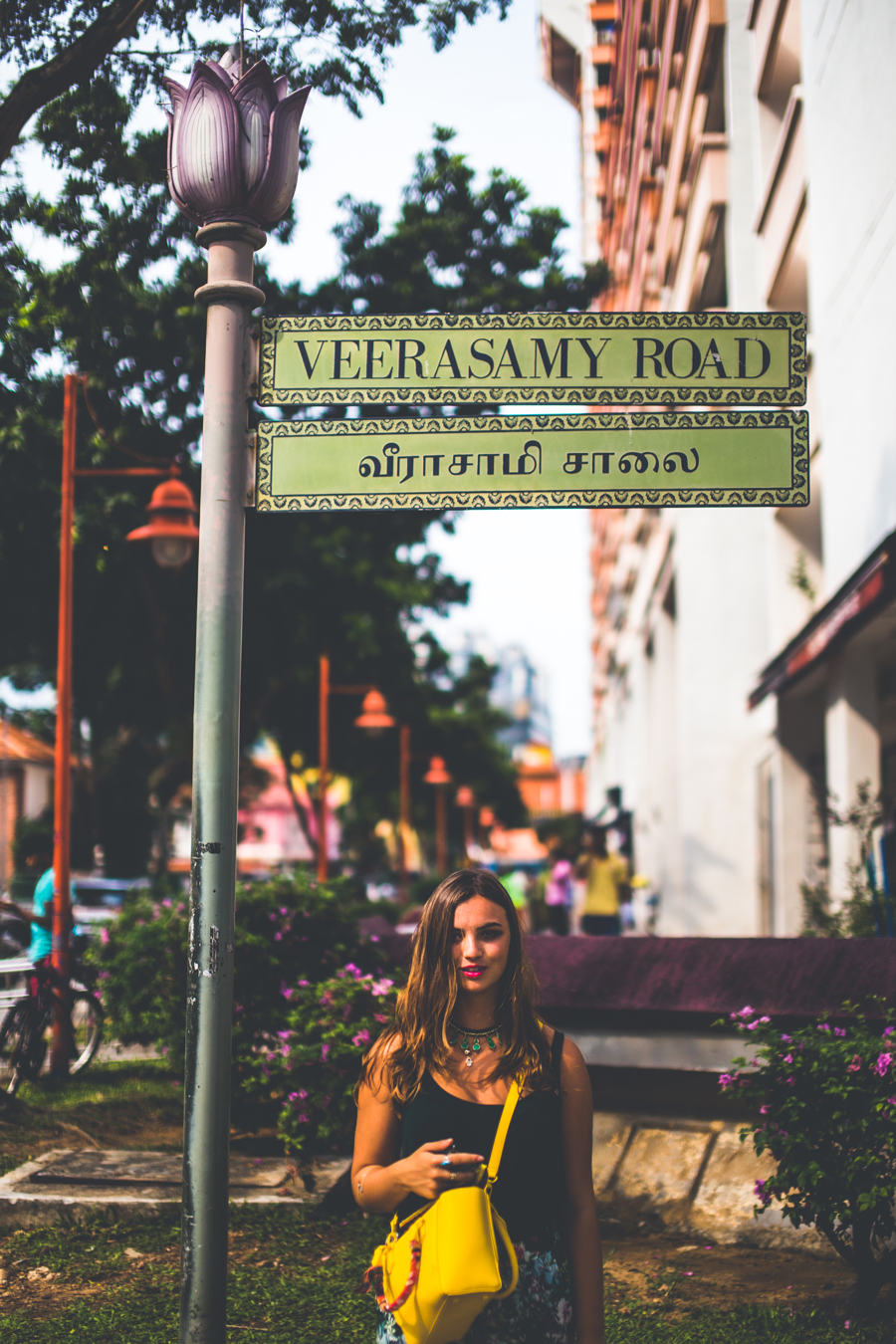 Puh… A long, intense and jet-lagged week has finally come to an end and I have just finished a big bowl of ice cream as a reward for surviving the tsunami of work that hits you when you've been gone a week. Tomorrow is my birthday, and this past week I feel like I've aged enough to not need to celebrate yet another year added to that tally. My mental age is closer to 86 than 26 right now. But as I'm waiting for midnight and the inevitable, I've been going through the pictures from last weeks adventures in Singapore.
Singapore is a very fascinating city. A mix of Asia and Europe, with colonialist architecture blending with new wonders as the city has turned into a playground for architects. I only got to spend 3 days in the humid concrete jungle, but still managed to see most of the city (tour busses are awesome) and distinguish a couple of favorite spots. Two of them were Little India and the Arab Quarter (or Kampong Glam).
On Tuesday we spent more than 8 hours wandering the streets of the two neighborhoods, both considered prime hipster spots while still remaining the center for their respective ethnic group. The area provided a mix of locals in suits, hipsters in black with turquoise hair, high schoolers in colorful uniforms and middle-aged tourists with camera phones and fanny packs. Haji & Bali Lane in the Arab Quarter kind of reminds me of Brick Lane in London, if Brick Lane was situated in a climate not dominated by gloomy, grey weather. It is in other words colorful and cool.
'Nuff said on the neighborhoods themselves; here are some tips on what to eat, drink and shop, and where to do said activities, accompanied by loads of photos: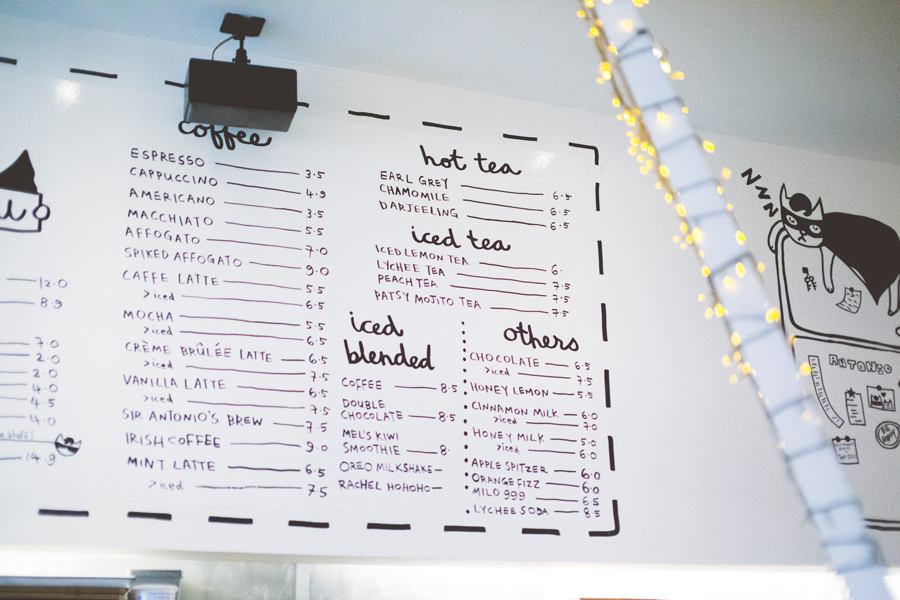 EAT/DRINK
Breakfast/brunch at The Tiramisu Hero Cafe. This place has delicious food, delicious drinks and a funny studio space dominated by the cafe mascot: Sir Antonio. "Sir Antonio is not a panda, nor a raccoon, he is a cat." They support cat welfare, and your tip goes to taking care of stray cats. Win-win! If you can't decide on one thing from the menu, I recommend trying the sample plate (i.e. a little bit of everything). And the tiramisu, obviously.
Lunch at I AM.. . Situated at the end of Haji Lane, this place serves a honey tea and fish'n'chips-combo that is both fresh and salty, which is exactly what you want in humid Singapore. Address: 674 North Bridge Road.
Lemonade or ginger ale at Shop Wonderland. Sit in the windowsill on the second floor and enjoy a small break from the shopping and photography-taking. They also have some really nice posters that you can buy, I regret not bringing home an art deco map of Seoul. Address: 37 Haji Lane.
Drink coffee at Woodshed 204 in Little India. Specifically an americano, and then maybe try the Korean Chocolate Banana Cake if you're hungry. I've been told it's pretty over-average delicious. Address: 204 Rangoon Road.
Also OGOPOGO on 73 Bussorah Street!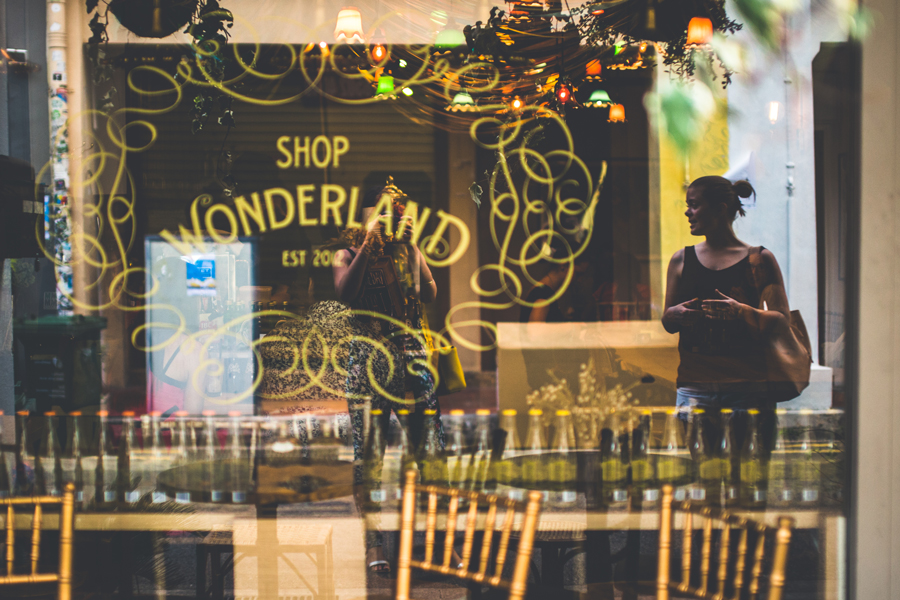 SHOP
Drop by the Mustafa Center in Little India for cheap electronics, bags, clothing and food. Admire the saris that they sell on the basement floor, and dream of the day when you will buy one and attend a real-life Bollywood wedding in India (or that might be just me).
Mondays Off in Haji Lane has all those things that would make your apartment look like a Pinterest-board. I cursed my stupidity for opting for carry-on on this trip, and still dream about the succulent pot I should have bought that would have looked perfect at my place. Also, jewelry.
Up for some vintage shopping? Roccoco Kent is a little bit of the beaten path, but has some great vintage stuff, including some pretty rad(!) typewriters. I still dream of having a typewriter, and actually use it to write novels. It will happen one day. Address: 753 North Bridge Road.
Straits Records is apparently an institution in Singapore. For my part I have a soft spot for old, alternative record stores, especially now that record stores in general are an endangered species. 49 Haji Lane.
Also visit all of the traditional stores selling dresses, interior treasures and henna kits. I almost bought a small and intricately designed birdcage to use for my jewelry. Almost. Sob.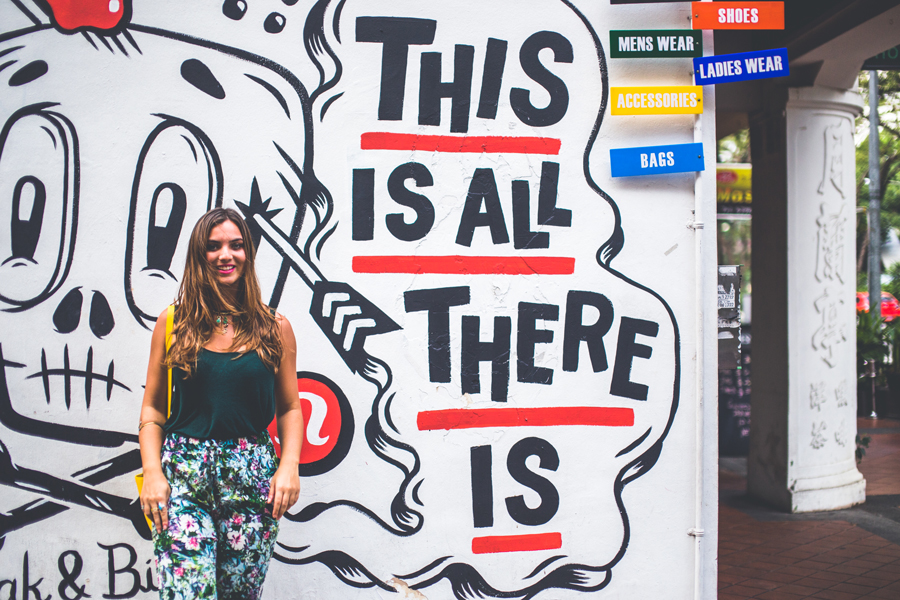 TAKE PHOTOS OF:
– The graffiti walls in Haji Lane. Because who doesn't love street art in all shapes and sizes. They make cities so much more colorful!
– The colonialist architecture scattered everywhere in the neighborhood, especially in Little India. It's got a vibe that I usually associate with Louisiana and New Orleans.
– The Sultan Mosque. It is currently under repair, so I didn't get any good photos of it. But it is a beautiful piece of architecture.
How to get there? Take the MTR to Bugis, Little India or Ferrar Park, consult Google Maps, and wander.