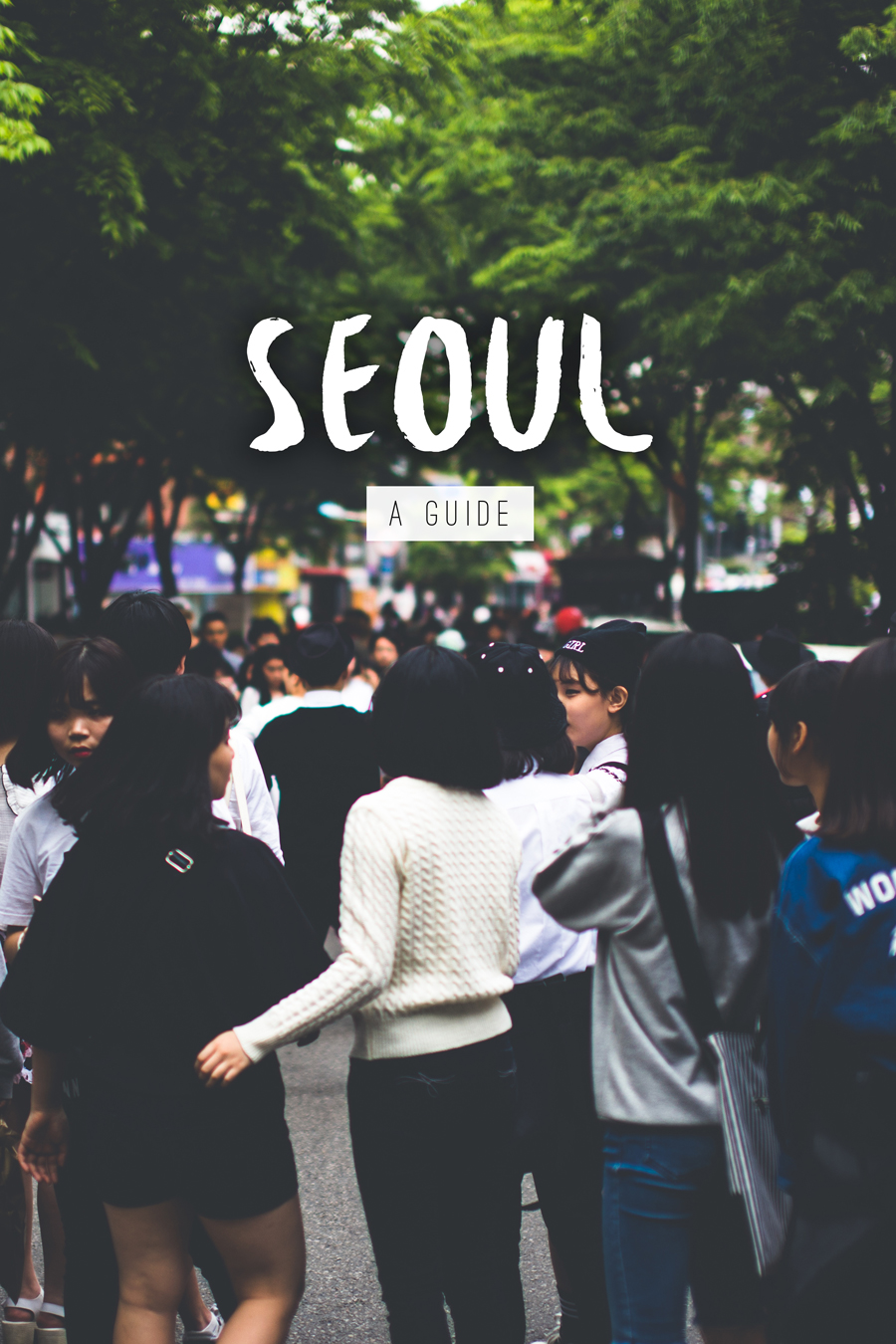 7 months have flown by, and I am still not completely used to the fact that I actually live in this great city. But 7 months have meant a lot of excursions, treasure hunts, blog reading and instagram stalking, and I am at least confident that I am learning to understand how Seoul works. And for that reason I thought I'd present a quick guide to the city that actually never sleeps (except between 6AM-11AM), so that you might get to experience some of the best that the city has to offer if decide to stop by.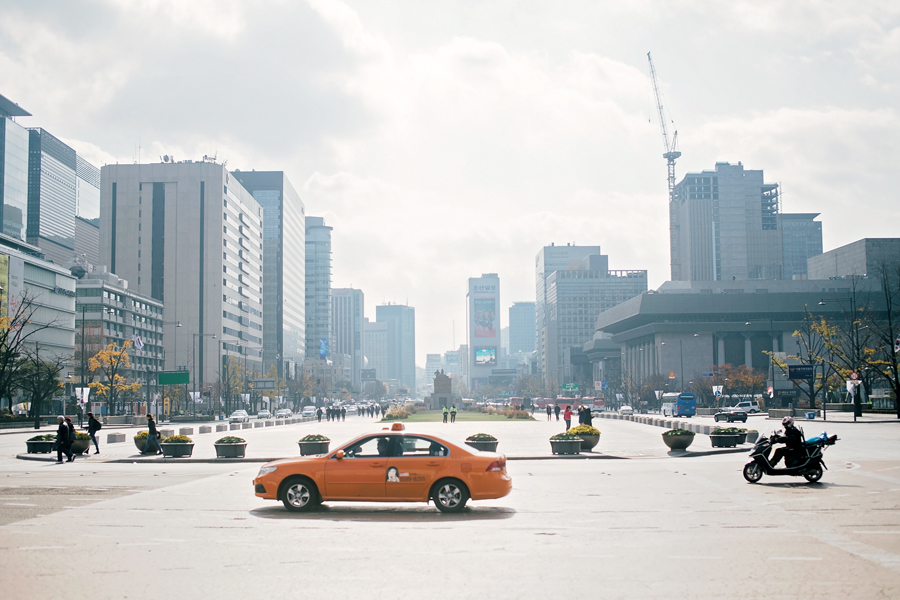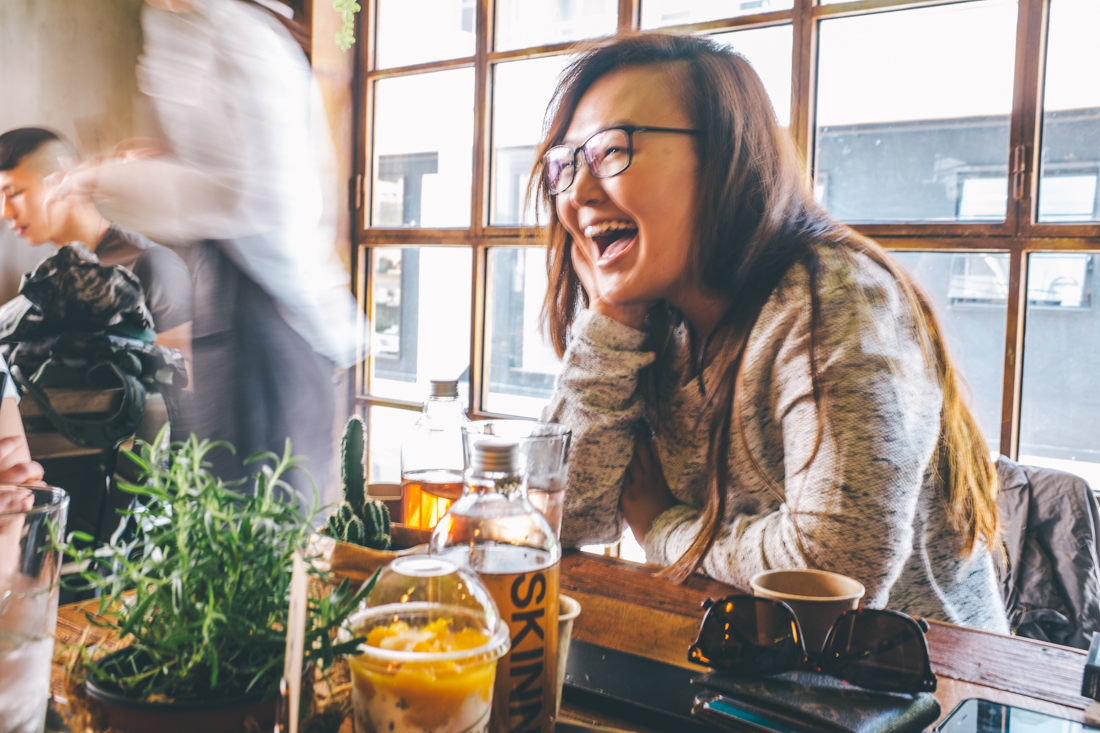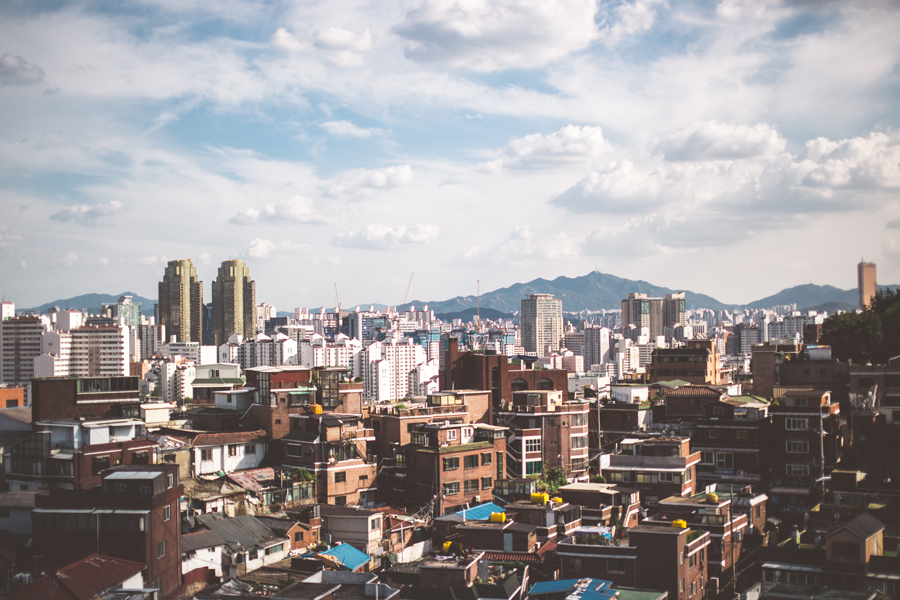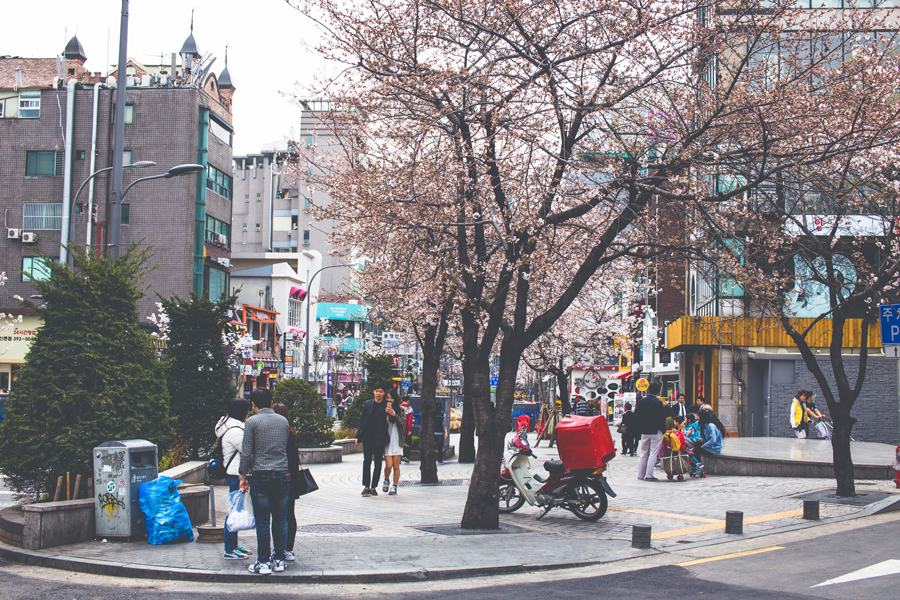 Sleep:
The first thing you have to fix after the plane tickets are booked. If you want to, Seoul has got plenty of hotels to waste your money on, but as previously mentioned, it is a city that never sleeps and neither should you when you're here! A hostel or guest house is the best and cheapest alternative in this city, and it's what I always recommend to anyone under 30. Most hostels and guest houses are small, cozy and run by a family. You have the option of a private room, and usually get some kind of breakfast in addition to access to a kitchen.
Last time I had friends visiting they stayed at the Gold Guest House. It is in a quiet part of hipster neighborhood Hongdae/ Hapjeong, but only a block away from coffee shops, bars, restaurants and night life. Clean, cheap and run by a nice staff!

Want to live in style? La Casa in Sinsadong is the coolest spot I've seen in the city so far, and it's also located in my favorite neighborhood south of the river: Apgujeong.
At VisitKorea.com you can find a guidebook to guest houses in the Hongdae-area, in addition to that Hostelworld.com and Airbnb.com have loads of affordable spots in Seoul. As for neighborhoods I recommend Hongdae, Hapjeong, and Apgujeong. I live by the principle that you should always live close to where you go out to eat and party, that way you're in safe, walking-distance when it's time to go home.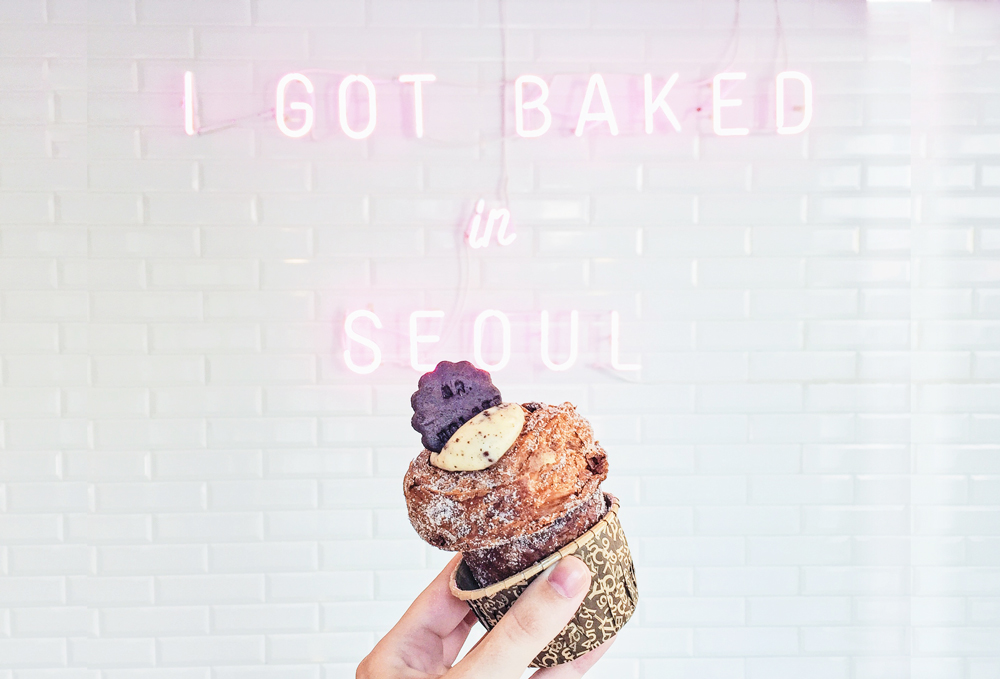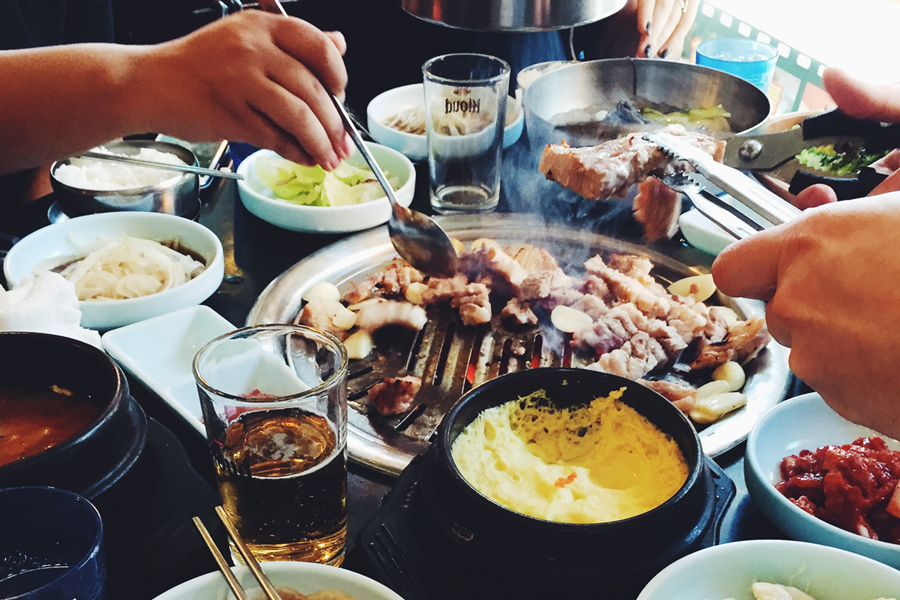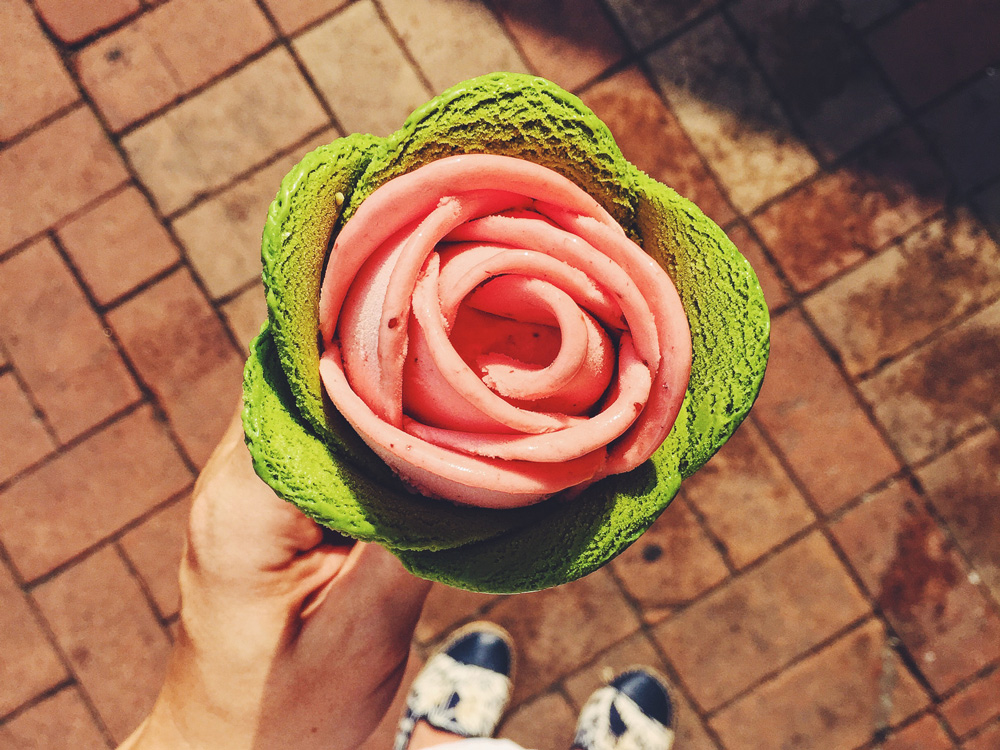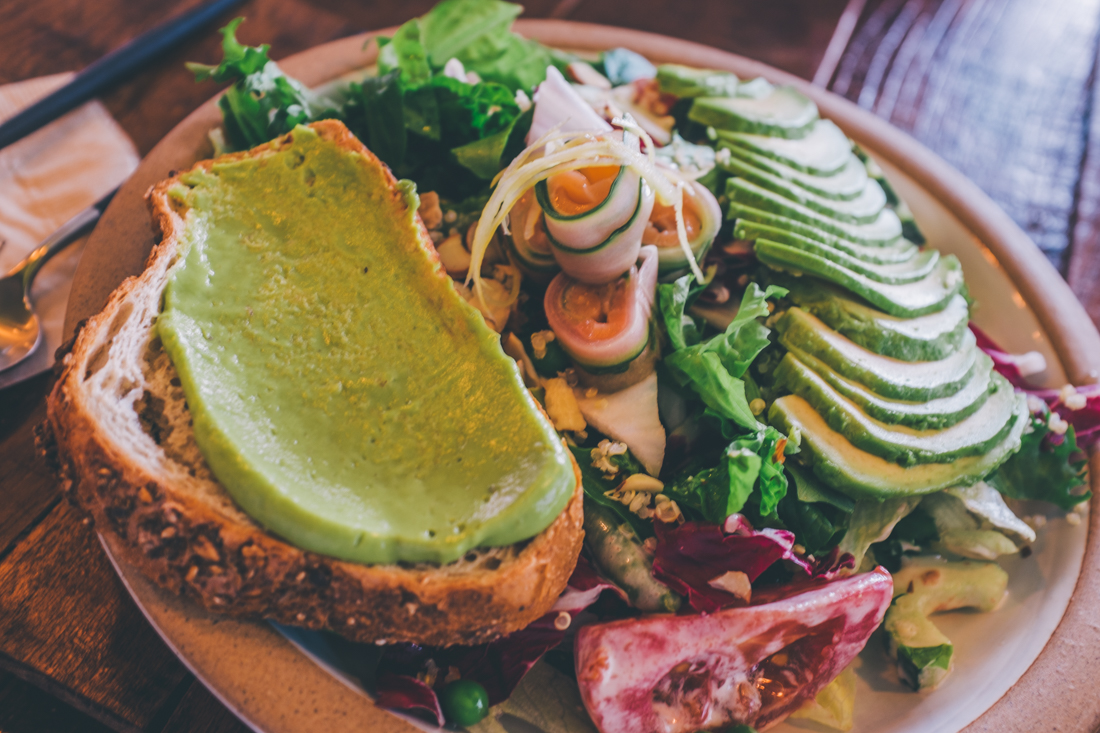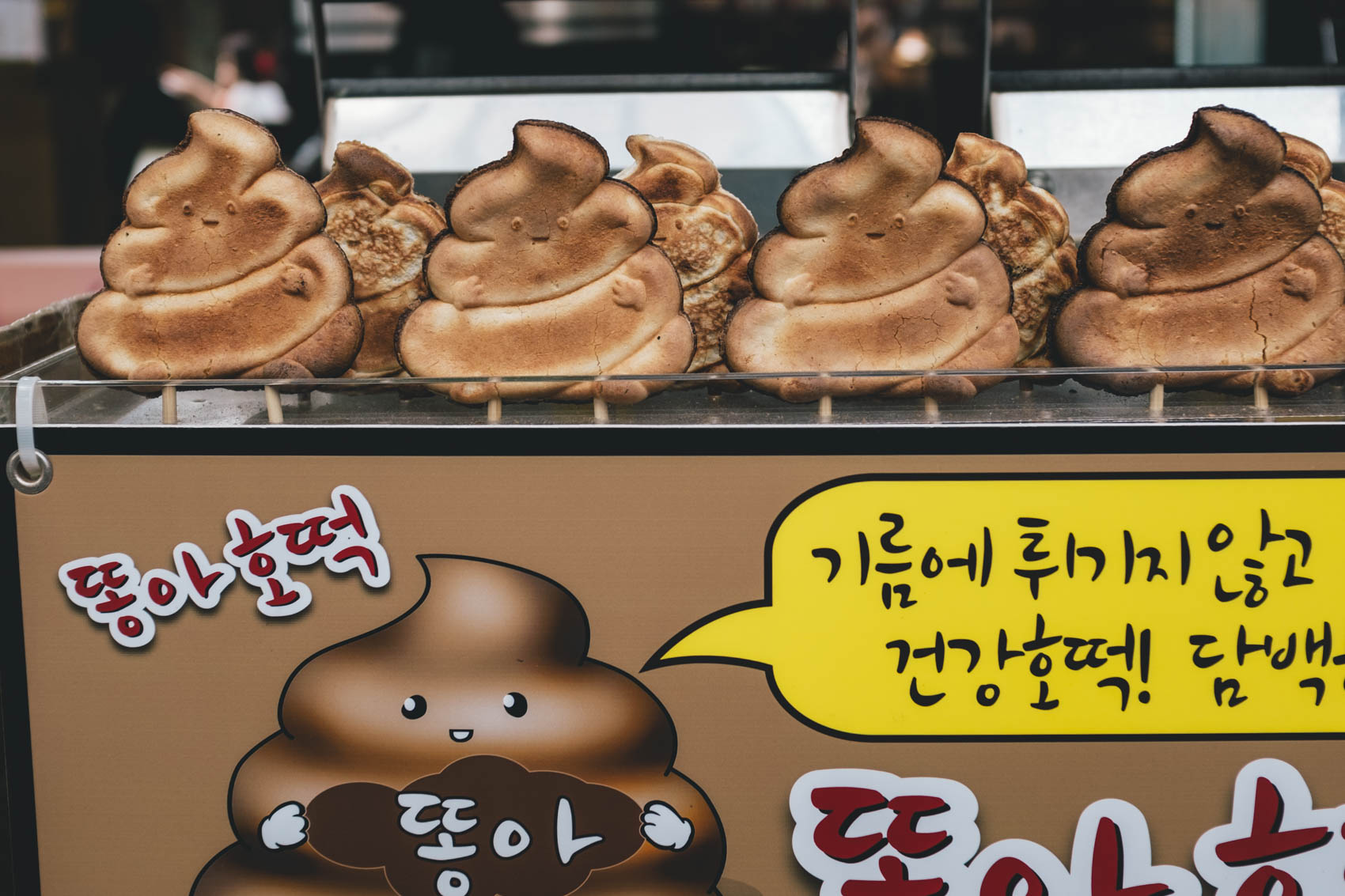 Eat:
Korean food might just be my favorite cuisine in the world, and it will be yours too if you're fond of BBQ'ed meat, loads of different spices, soups, mushroom, noodles, and of course: kimchi. If I had to I could easily live on Korean BBQ for the rest of my days. 삼겹살 (samgyeopsal, or barbecued pork) is my favorite, but 갈비 (beef) is pretty delicious too. Both are grilled at the table, and served with various side dishes.
In Korean restaurants side dishes are free, you only pay for the main dish (the meat usually) and drinks, and the side dishes are usually put on your table the second you sit down.
I don't think I've ever had a bad meal in Korea, so as a general rule any restaurant that has customers will serve great food, no matter how shabby the place looks. When it comes to traditional Korean restaurants the food matter more than the surroundings, unlike their coffee shops.
In addition to BBQ you should also try kimchi stew (especially good if it's cold outside), naengmyeon (if it's hot outside), bibimbap, gimbap (korean version of sushi) and all of the delicious street food. Except for the fried silk worm (beondegi), you can stay away from those.
Some of my favorite places to eat:
Samgyeopsal in Sinchon – If you're ever in the Sinchon this is our favorite spot for pork BBQ. I don't remember the name (we have our own name for all of our favorite places), but here's the address: 52-147 Changcheon-dong Seodaemun-gu, Seoul.

La Ferme – Feeling like a healthy lunch? Try the avocado dreams served at La Ferme, a superfood paradise in Yongsan.  Address: 32 Itaewon-ro 54-gil, Yongsan-gu, Seoul.

Maple Tree House – In the Itaewon area and looking for delicious, albeit a little pricy, BBQ? Head by Maple Tree House. Address:  #1002, Hannam Bldg, (Hannam-dong), 211 Itaewon-ro, Yongsan-gu, Seoul.

(Old) Noryangjin Fish Market – A culinary experience. Walk along the stalls at the market, pick whichever seafood you want to eat, pay for it and bring it up to the second floor where the restaurants are waiting to prepare the food for you. Eat with soju!

Hungry for desert? Here are some of my Seoul favorites.
Drink: Soju and beer. Separate, or together in a 30/70 blend called somek (쏘맥 = soju + beer).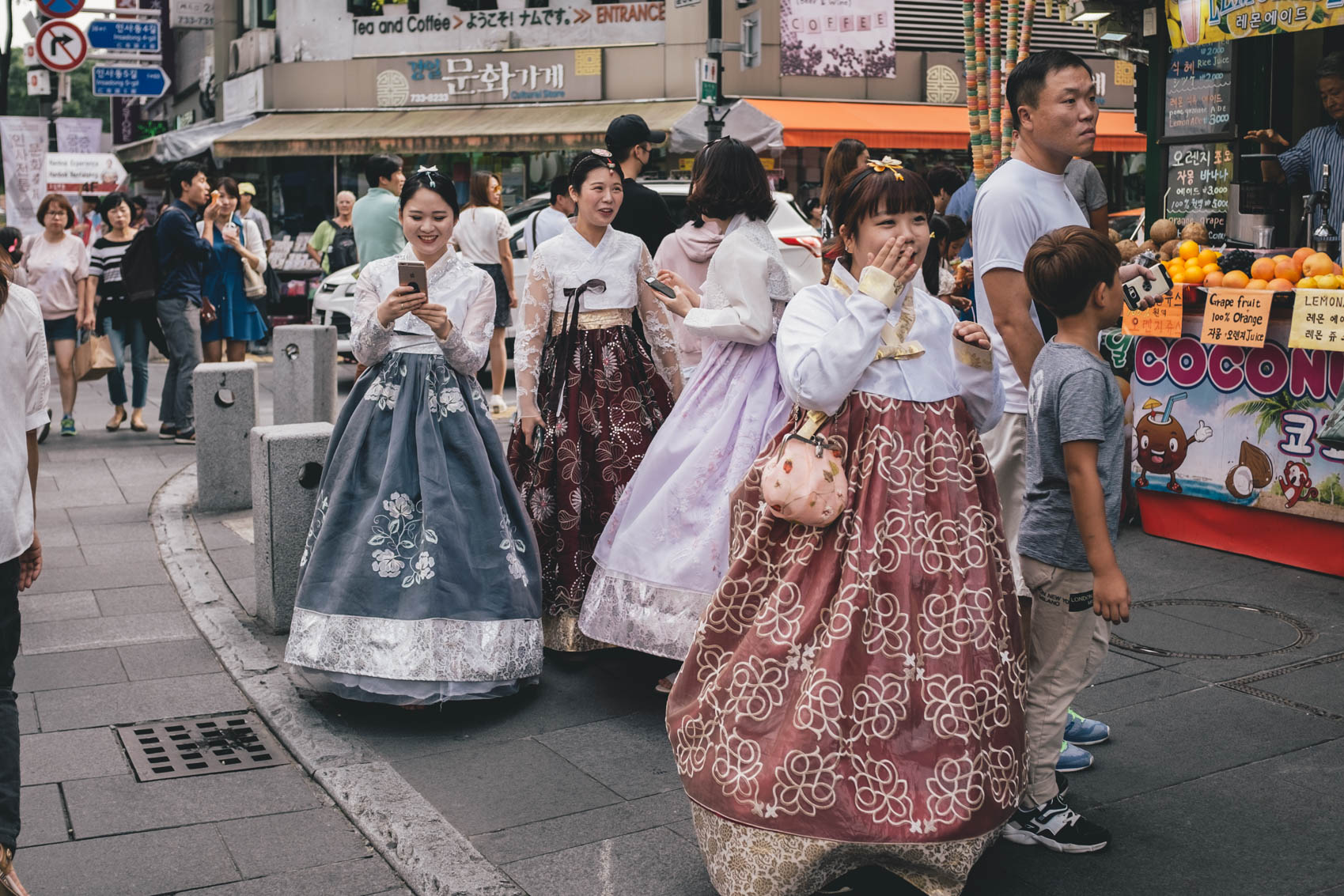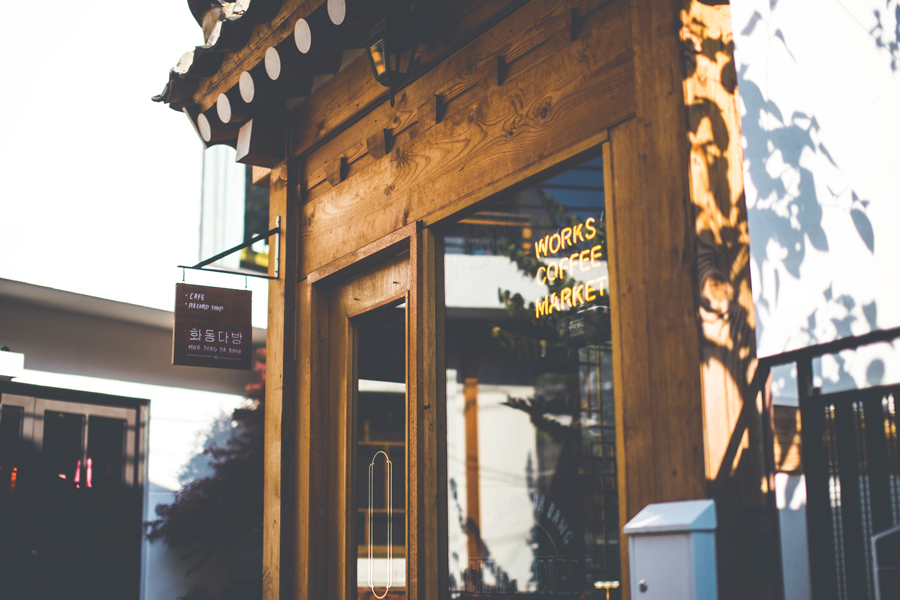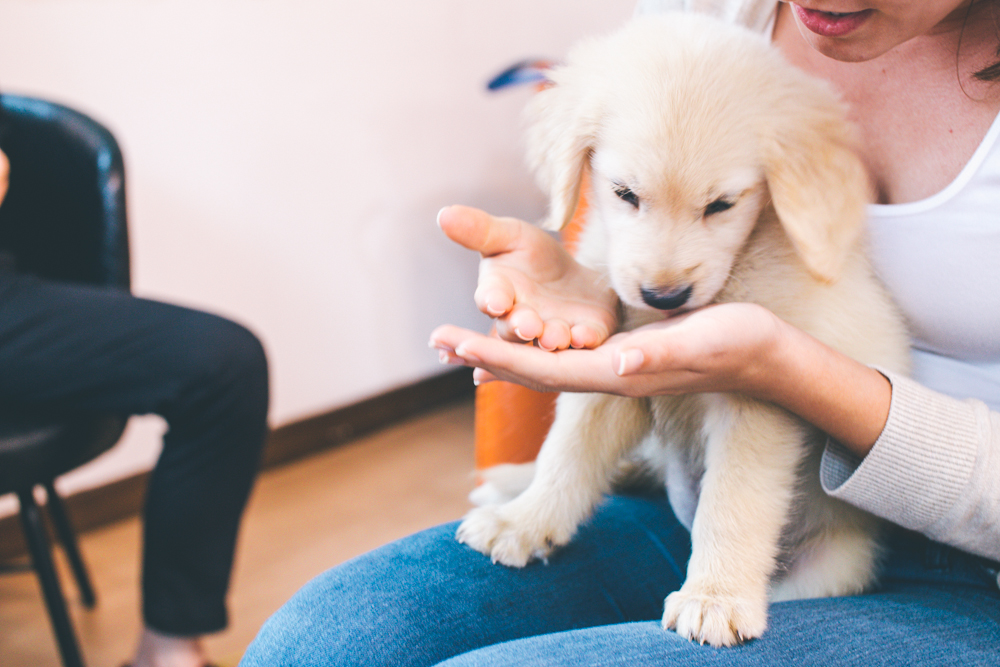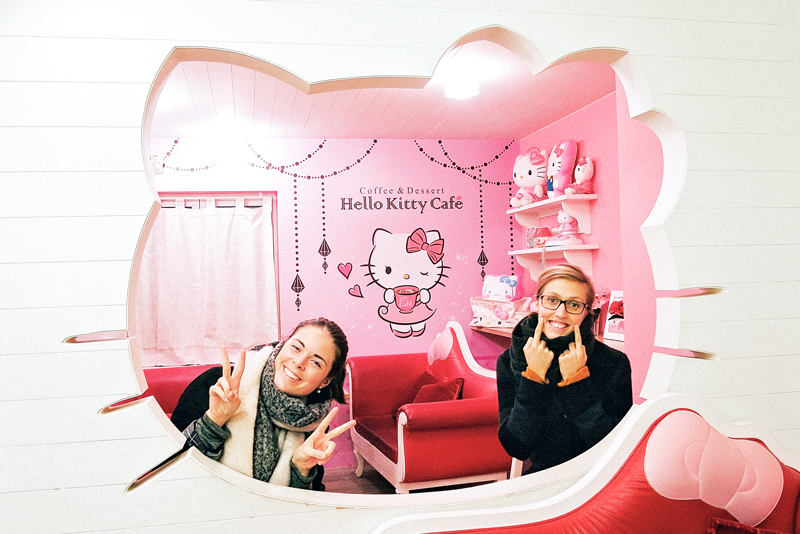 Play
Take photos in a themed coffee shop: Themed coffee shops are everywhere and anywhere in Seoul. Banana Tree in Apgujeong (in Gangnam) serve flowerpot cakes and cotton candy latte, while just about every neighborhood has at least a couple of dog- and cat cafes where you can buy a cup of coffee and snuggle with cute animals.
Hello Kitty Cafe – The name says it all. Sinchon Station, exit 3. Address: 13-3 Changcheon-dong, Mapo-gu, Seoul.

Monster Cupcakes – Creepy cafe in Hongdae/Sinchon that serves cupcakes decorated with severed fingers, tomb stones and the Cookie Monster.  Address: 338-40 Seogyo-dong, Mapo-gu, Seoul.

Thanks Nature Cafe – Drink coffee and take photos of the two sheep who live at this coffee shop in Hongdae. Yes, sheep. Address: 486 Seogyo-dong, Mapo-gu, Seoul.

Banana Tree – Cotton candy latte and flowerpot cake at this cute cafe in Apgujeong (Gangnam). 526 Shinsa-dong, Gangnam-gu, Seoul.

Puppy Café – There are a lot of dog cafées in Seoul, but as far as I know only one puppy café. Photos and map here.

There's also a racoon café and a café with flying squirrel and turtles (called Galapagos if my memory serves me correctly).

Or just a regular coffee shop. Here's a list of some of my favorites.
Seoul is a city in constant fluctuation, and the same goes for its coffee shops and boutiques. A lot of the cool cafes I discovered when I got here, or found online and planned to visit, are gone now and replaced by others. When it comes to shops like these, my best tip is for you to explore the side streets of Hongdae, Sinchon, Apgujeong, Noksapyeong/Itaewon and Hyewha. Koreans obsess over their coffee, so you're bound to find a great place.
Visit a palace: Seoul has plenty of palaces, and while they're all stunning, one should be enough to cover the cultural quota on your trip. My suggestion is Changgyeonggung (Changgyeong Palace), especially if you visit in the summer. While Gyeongbokgung is considered the main palace, and many emperors of Korea preferred Changdeokgung, and I personally love Changgyeonggung the most. It's smaller, less crowded, has a beautiful pond surrounded by cherry blossom trees in the spring, and a glass house that was built by the Japanese during the occupation when they made the palace grounds into a park and installed a zoo, much to the chagrin of the locals. The zoo is gone, but the green house remains. Expect to meet Korean school girls eating lunch and staging impromptu photo shoots.
Try on hanbok: The Korean national costume is absolutely gorgeous, and in Insa-dong you can try on a beautiful set of hanbok and take photos for anywhere between 30.000 and 60.000 won. If you don't feel like paying for it, most of the palaces let you try on hanbok for free, albeit the cheaper, less ornate versions.
Visit the Noryangjin Fish Market. Buy the fish (or other sea-dwelling creature) you'd like to eat for dinner, bring it up to one of the restaurants on the second floor where they'll prepare it for you (for a small fee), add some soju to the mix and enjoy!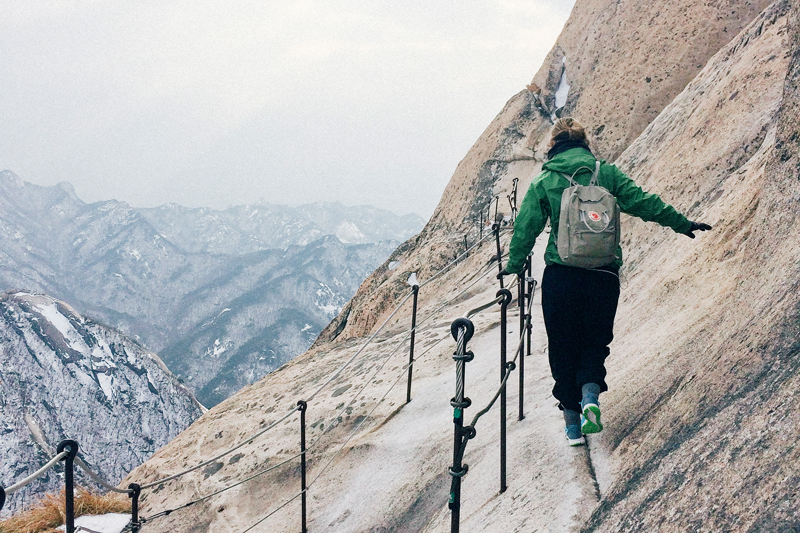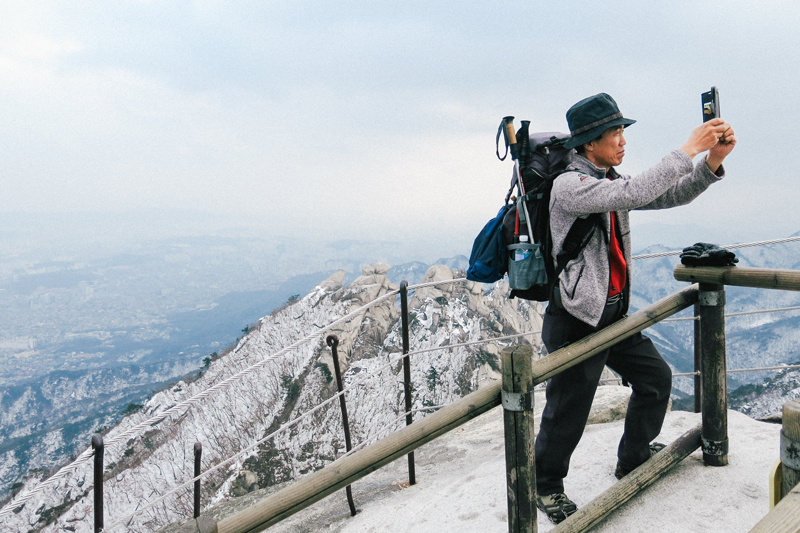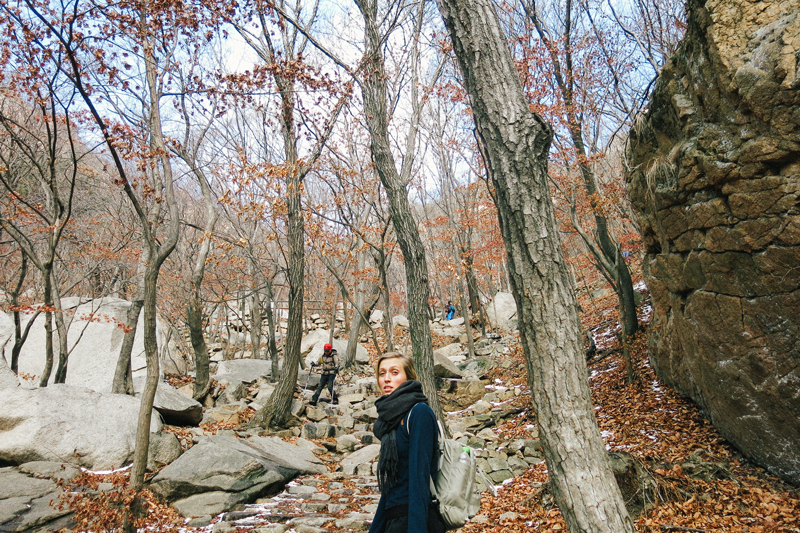 Go hiking in Bukhansan National Park: Koreans love hiking, especially the older generation, and Seoul is surrounded by national parks and mountains that are carefully maintained and marked with trails for both daredevils and newbies. If you've got the time, get out of the city and climb a mountain.
Go to a norebang: If you're traveling with a group of friends, or make friends in Korea, norebang after dinner is a must. Norebang is the Korean word for karaoke, or literally "singing room", and you'll find them just about everywhere in Seoul. Look for a sign saying: 노래방!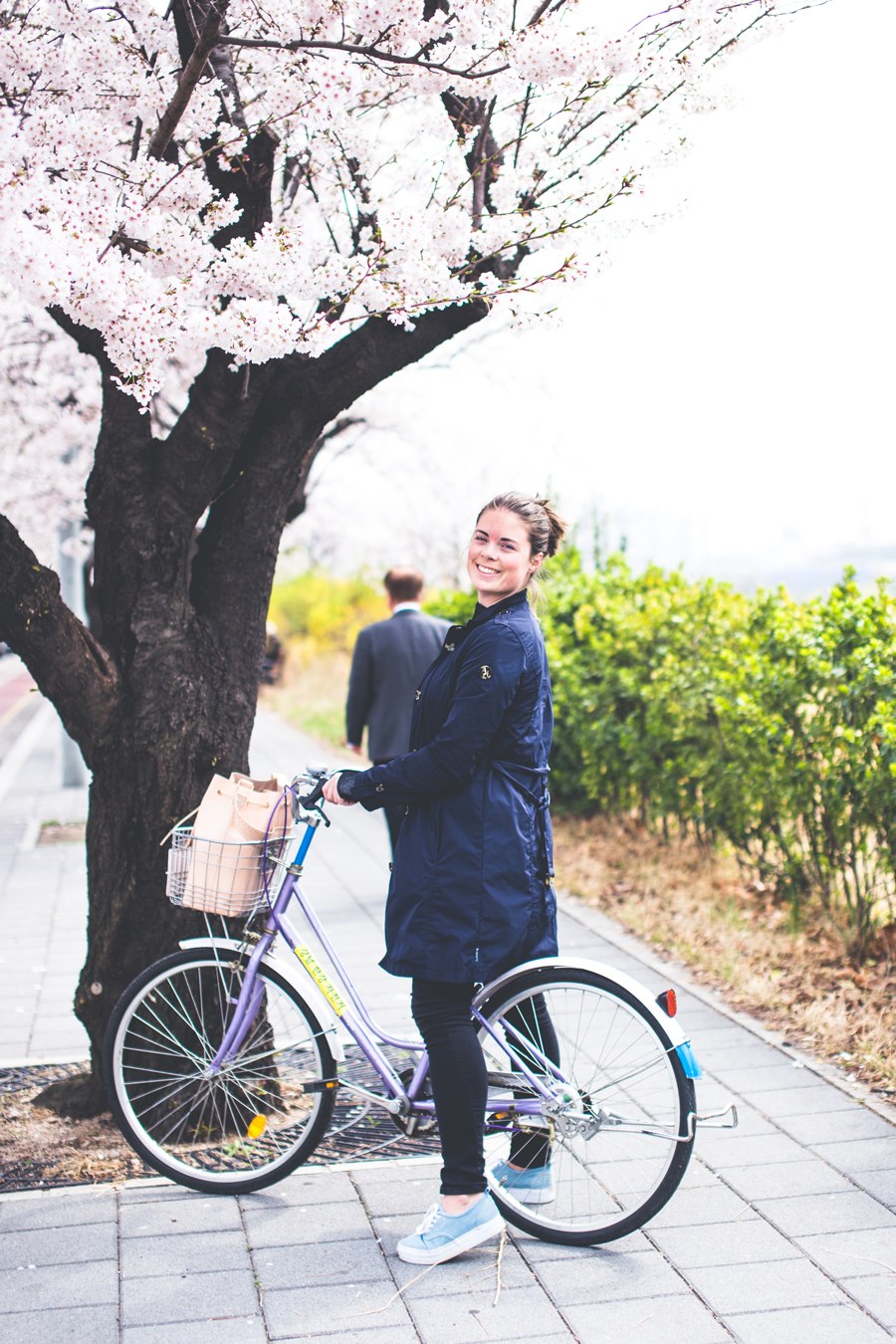 Rent bikes and cruise around Yeouido Island: The island of Yeouido lies in the middle of the Han river, and is surrounded by a park that is filled with cherry blossoms in the spring, and people all through spring, summer and fall. Sometimes called the Central Park of Seoul, it's one of my favorite places.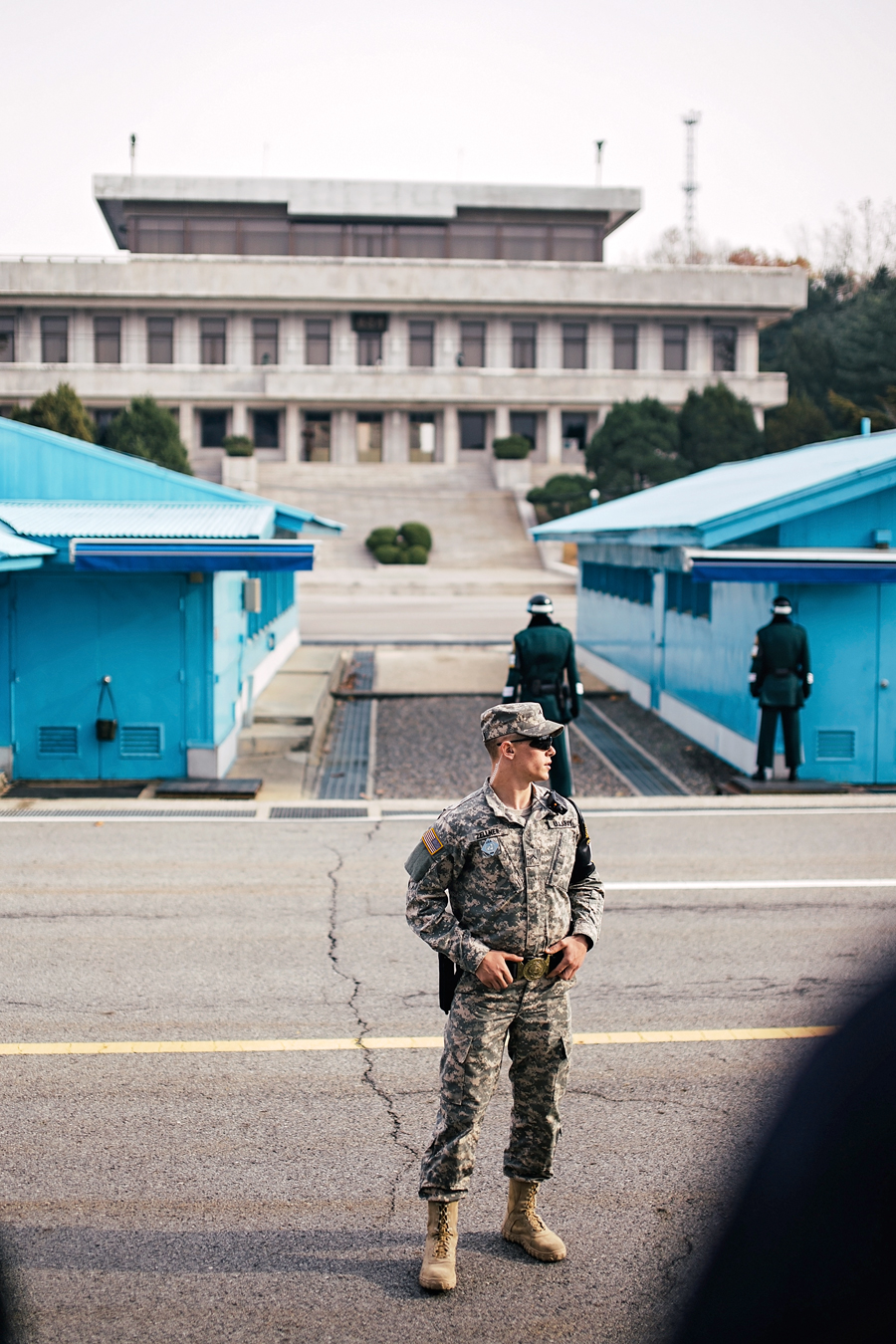 Visit North Korea: While actually visiting North Korea takes a lot of effort (and is currently not possible due to NK's fear of ebola), you can visit the border between North and South Korea, popularly known as the DMZ.
Book a trip that takes you to see the JSA (Panmunjom) and the Third Tunnel. The trip is going to take most of the day anyways, so you might as well see as much as possible!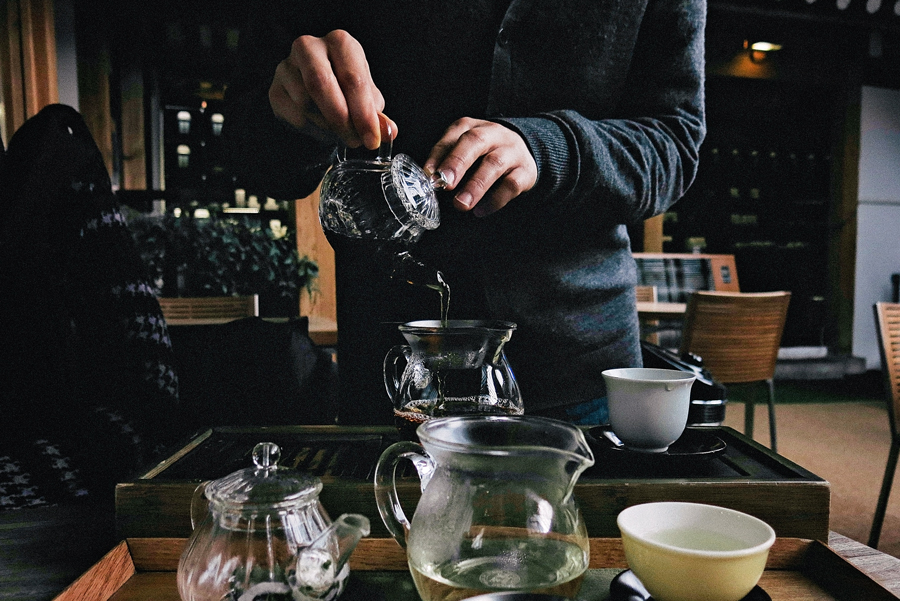 Drink tea at a tea house in Insadong: While most people would think of China (or the Brits) when asked to name a tea country, Korea has a long-standing tradition with tea, and the green tea fields in Boseong has become a tourist attraction. In Seoul, Insadong is the main central for tea houses.
Buy
What's a trip without some souvenir to bring home? Korea is home to over 1500 years of incredible cultural art history, which has culminated in a treasure trove of stuff that will look good in your living room. Plan a trip by Insadong to browse through painted scrolls, buchae (fans) and tableware. And if you want to go all out: get yourself a custom-made hanbok.
Make-up – According to some male friends of mine the best way to distinguish a Korean girl from a Japanese one, is to see how much makeup she's wearing. Koreans are big on makeup, and they do it very well. Skin creams, BB/CC-creams, facemasks and other products from chains like Etude House, Innisfree, Too Cool for School and Faceshop.

Cool stuff at Sangsangmadang – Sangsangmadang is a store in the middle of Hongdae, filled with fun gadgets made by up-and-coming Korean designers. Address: Seogyo-dong, 367-5, Mapo-gu, Seoul.

Socks – Korea loves socks. I'm still not sure why. But the result is that they sell funny, decorative and pretty socks everywhere. Want socks with PSY on them? Check. Want socks decorated with cute stuff? Check. Hello Kitty? Check. K-Pop stars? Check.

Animal hats – So you may not ever wear them at home, but animal hats (and anything else that can somehow be made cute) are a staple during Korean winters. Indulge your inner child!
Also: a couple of bottles of soju and makgeolli are always a good bet, or maybe one of those awkward konglish t-shirts they sell at the markets. Seoul is a shopper's paradise!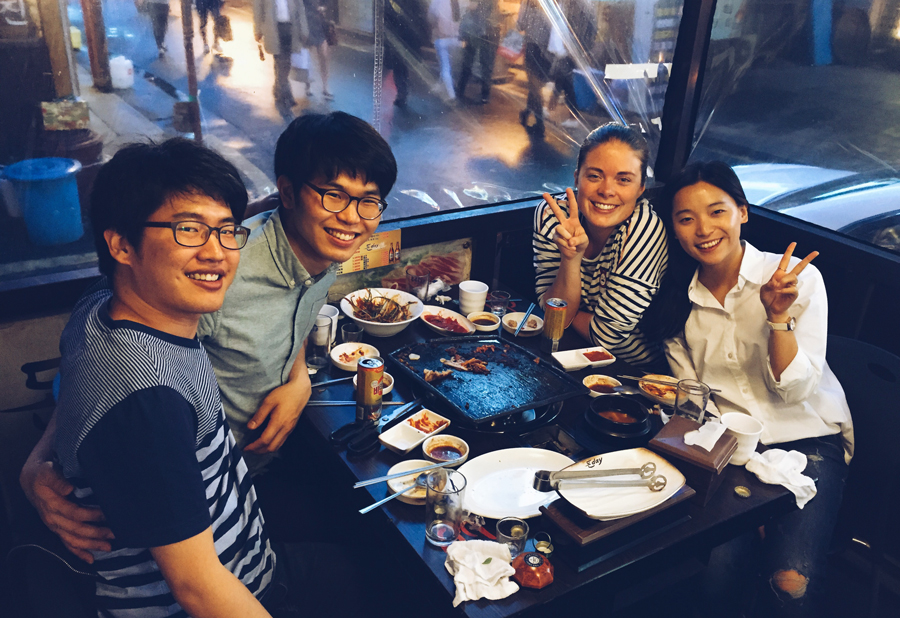 Useful words to know:
안녕하세요 (an-nyeong-ha-se-yo) – Hello, good morning, god day, good evening.
감사합니다 (gamsa-hamni-da) – Thank you!
저기요 (jeo-gi-yo) – Used when you're at a restaurant and want the waiters attention.
얼마예요  (ol-ma-ye-yo) – How much is it?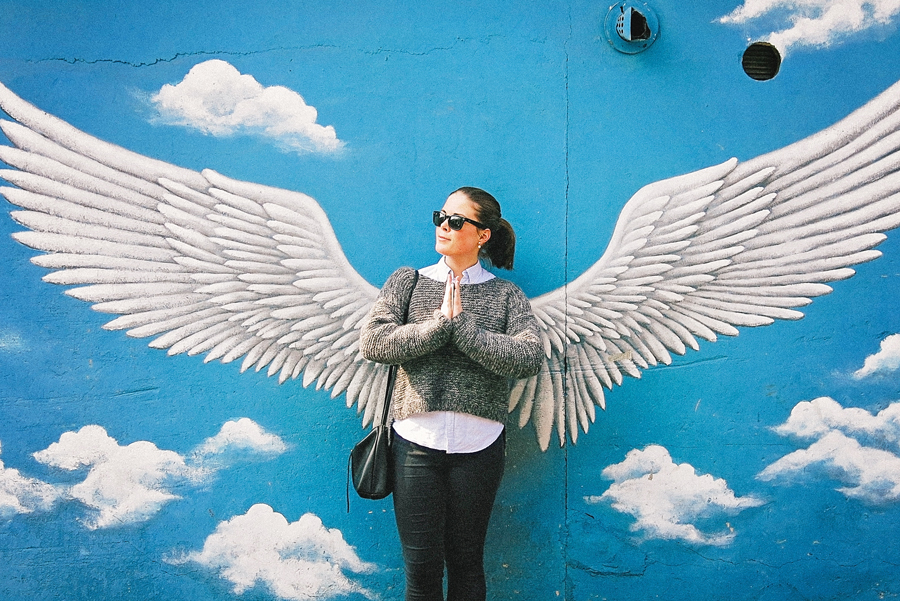 5 Seoul-favorites
Favorite view: While Namsan Tower is the tourist go-to spot for a view of the city, my favorite view is one I see every morning on my way to SNU. As the subway cross the Han river between Hapjeong and Dangsan station, you get a view of Yeouido Island, the city and the mountains in the background, all covered in a magical morning mist and the light of the rising sun. It never seizes to amaze me, that view.
Favorite museum: Dongdaemun Cultural Center looks like a spaceship, and is worth the trip because of the architecture alone. It also hosts visiting exhibitions, the last one being a comprehensive study of photographer Henri Cartier-Bresson's landscape photos.
Favorite coffee shop: This week: The Latte King, hidden away in side street by Ehwa Women's University Station.
Favorite place to work: Most recently: the second floor at Takeout Drawing in Itaewon.
Favorite thing about the city: That even when people don't speak English, they're polite, helpful and welcoming towards foreigners. And kimchi!