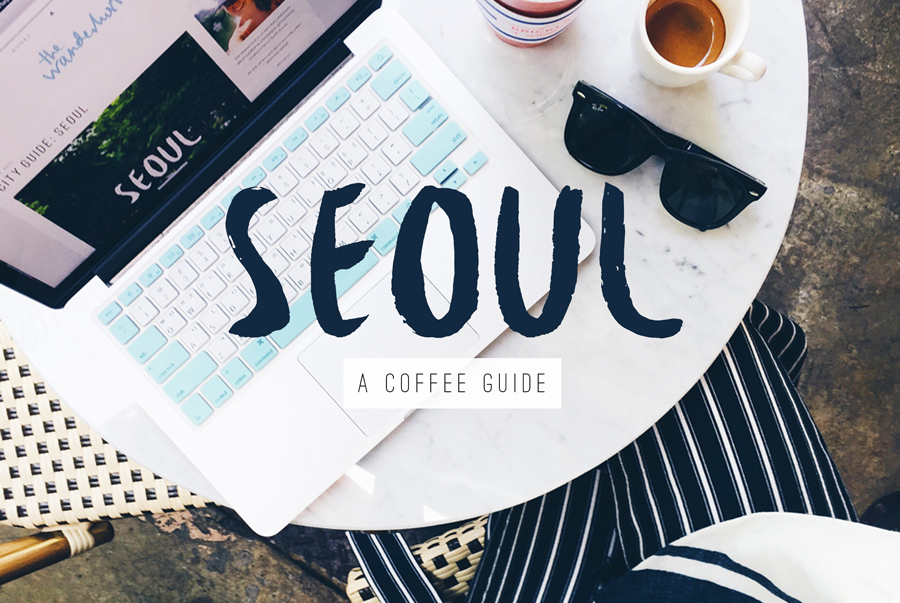 Coffee for me, like with a lot of people, is just as vital as water. But not only is coffee an important part of my life, coffee shops and cafés are a matter of life and death (well, almost..) in both my work and grad school routine. Thus, one of the first things I do when I'm moving to a new place, or traveling to a new city, is to scout out some great coffee shops. Through meticulous research, of blogs and instagram hashtags from the city, I make up a list of at least two coffee shops per area I plan on visiting. Yes, I might have an OCD. So to add to that list in case there are others like me I would like to present four different neighborhoods in Seoul, and one (or two) coffee shops that deserve a visit when you are in need of a coffee break. Enjoy!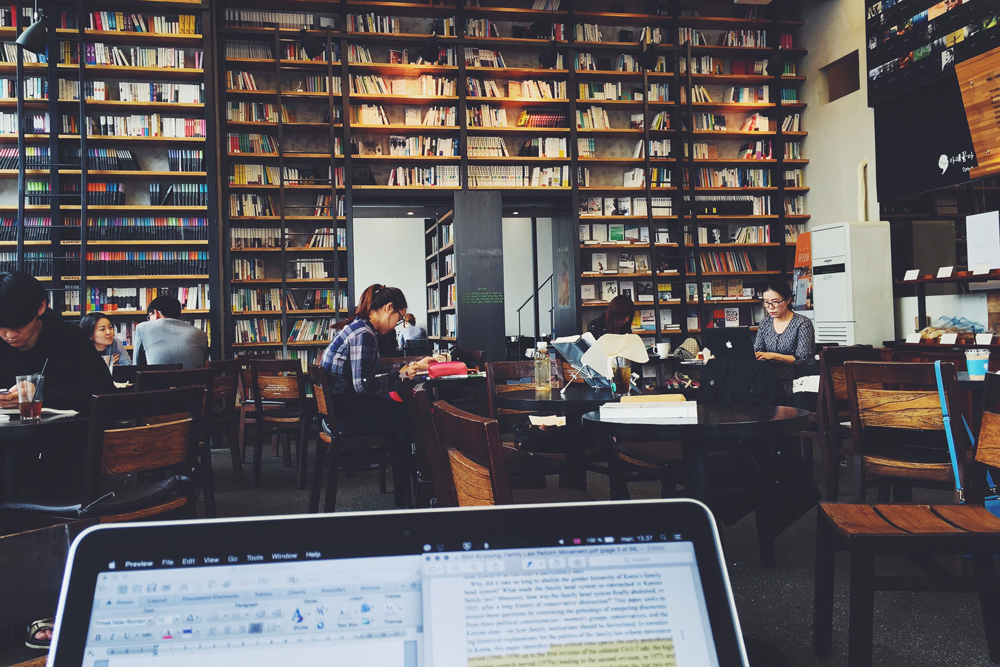 Hongdae / Hapjeong / Mangwon
Crowned the hipster neighborhoods of Seoul (I would say it's one of many), Hongdae and Hapjeong are the extended part of my neighborhood, and thus a place I spend too much time and money in. Hongdae is home to, or in 20 minute walking distances to, more than 5 major universities (including my own Yonsei) and is thus one of the main student hot spots in town.
Expect to see musicians from Hongik University perform in the streets every afternoon and night, with crowds of school girls mooning over the most handsome K-pop wannabes. Talent scouts are everywhere here, and many celebrities started their career in the streets of Hongdae.
Café Comma – On the outskirts of Hongdae, right next to exit 3 of the subway, you'll find Café Comma. A coffee shop the way all coffee shops, and living rooms, should look like. With floor-to-ceiling bookshelves, comfortable chairs and decent coffee it is perfect for those days when the library does not provide enough inspiration for that essay on Korean land reform in the 19th century.
Address: Literally right next to exit 3 at Hongik University Station.
Beliefcoffee Roasters – My recent favorite for work days and that delicious smell og roasted coffee. This coffee shop might look very inconspicuous from the outside, but inside your met with the smell of freshly ground coffee (they roast their own coffee). Order your poison of choice and make your way to the basement, also known as the main hall, and choose a spot on the stairs or by the coffee roasting space and enjoy the sweet smell and great music.
Address: 서울특별시 마포구 서교동 양화로 11길 50. Hapjeong, exit 10. Walk in a diagonal straight through the shopping mall and exit on the other side and you'll see it straight ahead.
Coffee Conhas – A coffee shop made out of old containers and brick walls. Also containing a dog that lounges wherever's comfortable. Instagram loves this place in other words. Always order the flat white. Always sit outside (if the weather allows for it).
Address:서울시 마포구 잔다리로 105. Mangwon Station exit 1.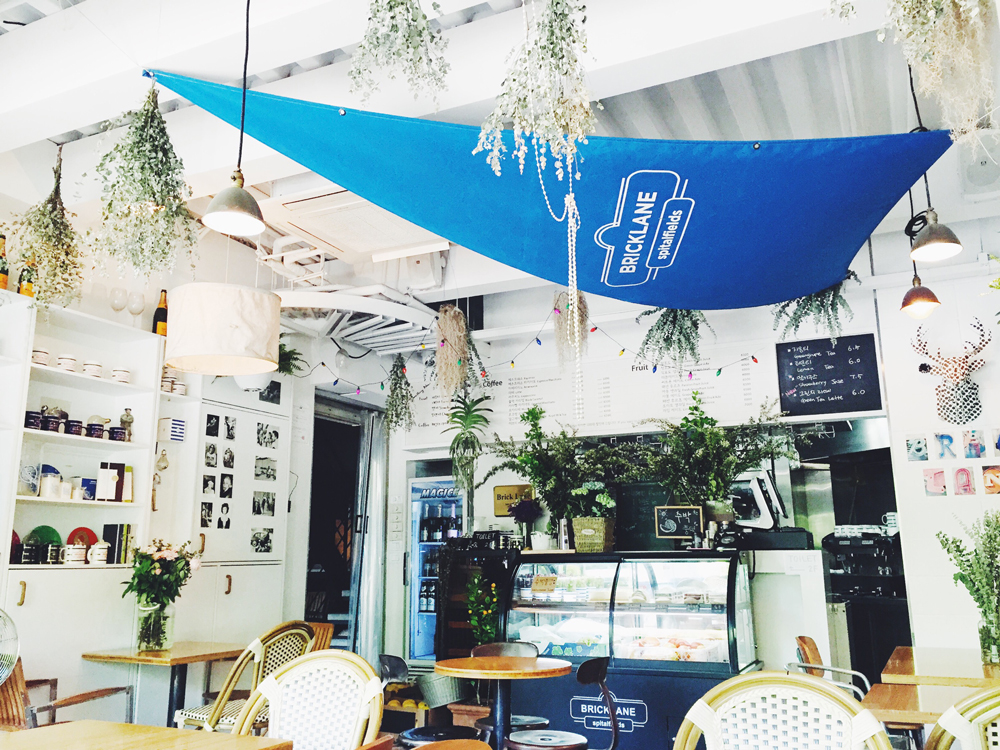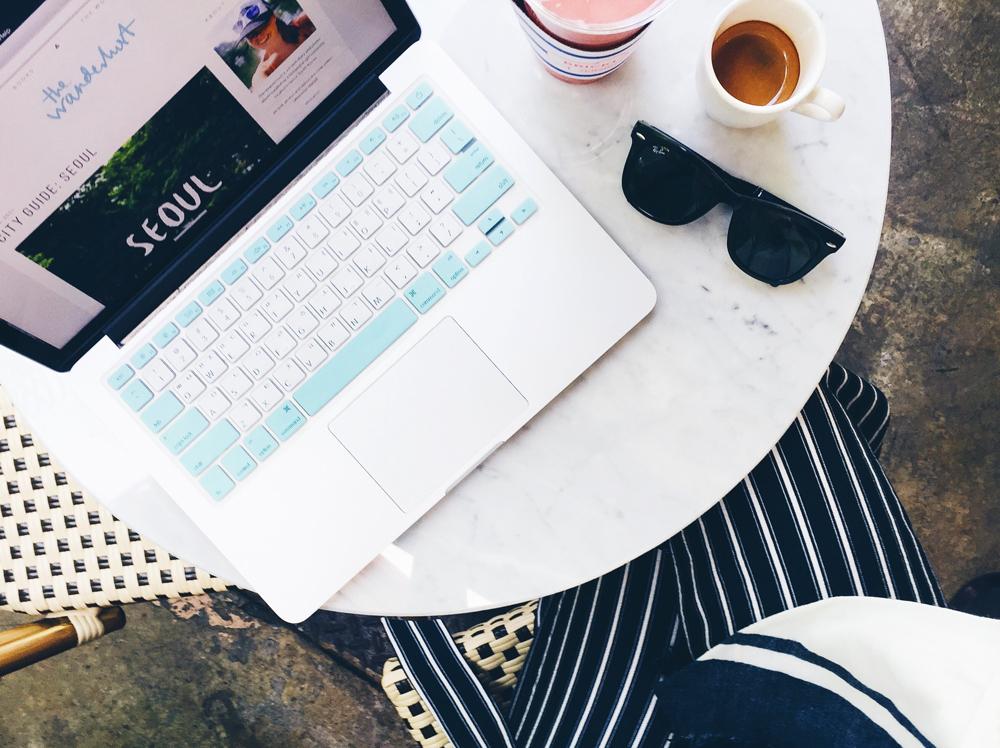 Itaewon / Noksapyeong
Confession time: I took me 7 months before I voluntarily set foot in Itaewon. Why? Because I'm prejudiced against any place where white people congregate in Asian cities. If I'm going to travel or live in a non-Western city I prefer keeping away from the neighborhood that cater to Westerners the most. Itaewon is the expat central in Seoul, filled with people from all corners of the earth (but mostly Americans due to its proximity to the Yongsan military base).
Itaewon is the place to go in Seoul if you are craving non-Korean food, clothes in sizes larger than small, and for some reason feel like partying with American soldiers/ESL-teachers. While there is plenty of Moroccan, Irish, Mexican or German food and drinks to go around, the neighborhood can also offer a billion different spots that are just made for productive study sessions. My current favorites?
Bricklane – Right next to the famous Brick Lane Foreign Bookstore, Bricklane is a beautiful oasis that channels the style of the British Imperial empire (think palm trees, marble tables, tiled floors and Earl Grey). The espresso is delicious, the smoothies even more so, and the tables are all decorated with fresh flowers. Sit under the parasols out front, or on the second floor where the breeze will keep you cooled down.
Address: 592 Itaewon 2(i)-dong, Yongsan-gu, Seoul.
ChansBros – One block down the street from Bricklane, on the corner of one of the two busiest streets in the neighborhood you'll get excellent, Italian espresso, decent music and free wifi, in addition to perfect people watching conditions.
Apgujeong / Garosu-gil
No guide to Seoul would be complete without mentioning Gangnam, and the Sinsa neighborhood is definitely my (and just about everyone else's) favorite. Expect to see perfectly manicured, beautiful, rich guys and gals, and the occasional K-pop star in these upscale neighborhoods along the Han river. Also, plenty of plastic surgery tourists with face masks and stitches on their new double-eyelids. Sinsa is also a shopping paradise for upscale hipsters, and just window-shopping in this area will make you happy (or depressed, depending on the state of your bank account).
Ikovox – A semi-basement shop hidden away in one of Garosugil's many side streets and back alleys. Out of all the ones on this list, Ikovox has the best coffee. Unquestionably. During my two work sessions here so far, I've had an espresso, iced Capuccino and a plain americano, and I actually finished them all. And that is saying something. Like my friends and family will know (and make sure to tell me often), I have a tendency to forget that cup of coffee because I'm too caught up in whatever else I'm doing, and thus half of any cup will be too cold by the time I remember it again. At Ikovox this has not happened yet. Stop by if you need a break from all that expensive (window)shopping!
Address: 534-10 Sinsa-dong, Gangnam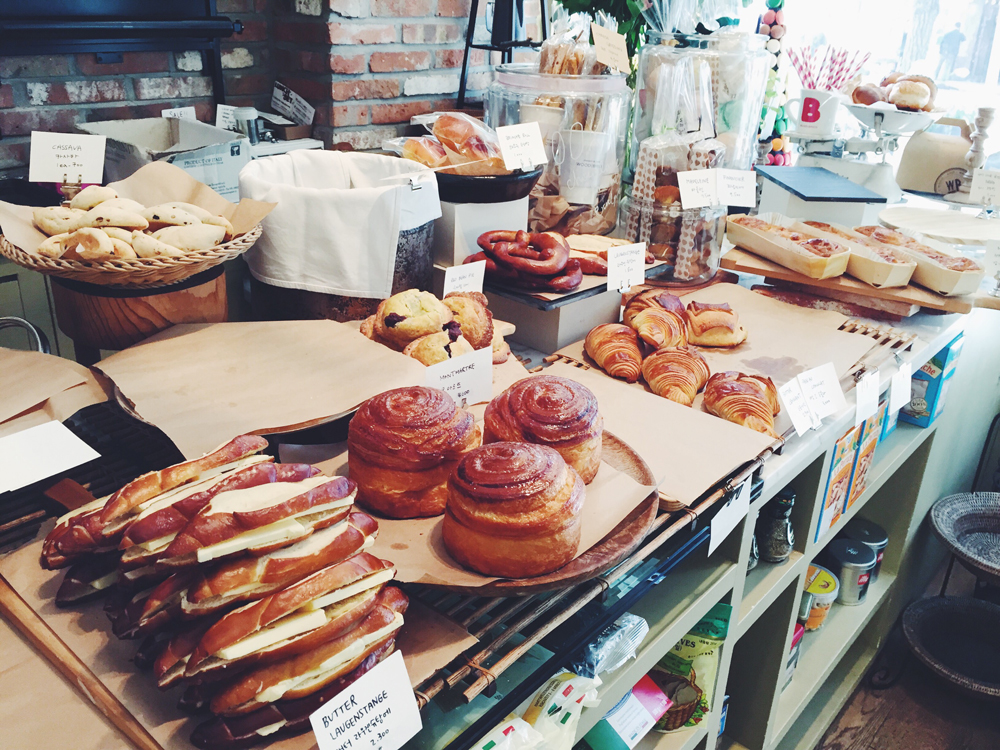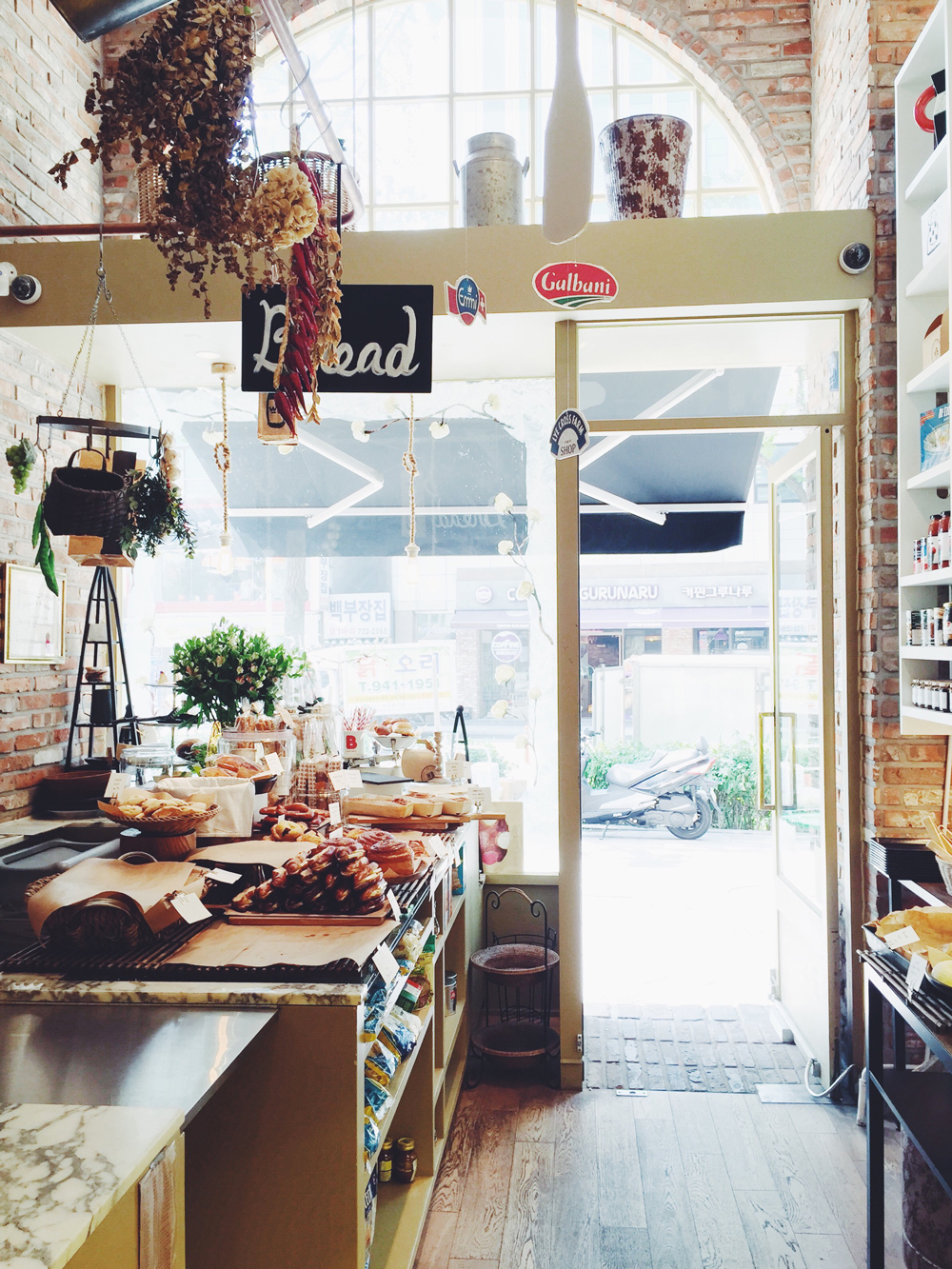 City Hall / Gwanghwamun
The center of politics in Seoul, with City Hall, The Blue House (home of President Park) and several Choson palaces within walking distance. Also: shopping-mekka (or shopping hell if you're the claustrophobic type) Myeongdong. No trip to Seoul would be complete without a visit to this part of town. Naturally, seeing as the area is also filled with skyscrapers that are in turn filled with office workers, there is plenty of generic coffee shops to keep you caffeinated 24/7. However, last semester I discovered a more cozy gem among all the Twosome Coffee, Coffee Beans and Starbuckses:
Wood&Brick is a local franchise consisting of 4 shops in the northern parts of Seoul (I recommend breakfast at the Anguk-one if you're visiting Bukchon Hanok Village), but my personal favorite is the one located just north of Myeondong. Delicious, European-style breads and pastries, ham, sausages, cheese and so much more. And the latest copy of Monocle if you need a work/study break.
Address: 110-86 Gyeonji-dong, Jongno-gu, Seoul.
Are you a coffee shop-worker? Or do you prefer the library/office?