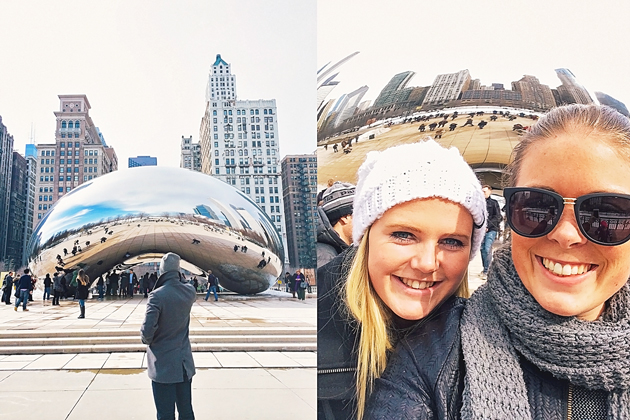 Just came home from a wonderful weekend in Chicago. Trine, Tarjei, Anders and I hosted the annual meeting for ANSA USA and passed on our responsibilities to a new board elected at the meeting. It's only been a year since this weekend in San Francisco meant the beginning of my ANSA USA-career, and what a year it has been. And now I'm done. I will have to find a new hobby now that I have so much free time on my hands.
Anyhow, although the trip to Chicago was short and filled with work, I still got to do some city roaming, and found some favorites I would like to share with you in case you find yourself in Chicago and in search for a good place to hang out after dinner.
Howl at the Moon – $10 cover charge, but oh-so worth it. We went there on Friday evening and got to experience one of the most awesome dual piano battles I have ever seen. 2 pianos, 1 synth, 4 singers/piano-players, a drummer and two tip jars were placed in the middle of the club, which was packed with people dancing and singing. You request a song on a piece of paper, and hand it in with whatever you're willing to pay to have it played by either of the pianist. The result is bad-ass and beautiful covers of everything from Nicki Minaj, Westlife and Tupac, to Johnny Cash, The Rolling Stones and Spice Girls (my request). A must.
26 W Hubbard St
Citizen Bar – It was cold in Chicago this weekend, but I imagine this place is great in the summer when they open the patio outside. Drinks are good, shots are good (and dangerous), snacks are good and the place looks fresh in a minimalistic, contemporary American kind of way. Great for those evenings when you just want to go out to sit and talk and drink. The flatscreens on the walls show sports and sports bloopers, and  makes for some good entertainment.
364 W Erie St
The Signature Longue – At the top of the John Hancock Center. Two floors above the sky deck, and one floor above the ridiculously expensive restaurant (think Norwegian prizes). The drinks are expensive, but you really only need one (the gin tonics were good) while you're admiring the stunning view of the city. We went here for a drink before dinner on Saturday, and Chicago by night really does compete with New York in splendor. Also, a drink here is cheaper then the ticket to the observation deck ($15) and let's you enjoy the view behind floor to ceiling windows instead of outside in gushing cold wind behind barriers that ruin the view.
875 N Michigan Ave
What are your Chicago favorites?