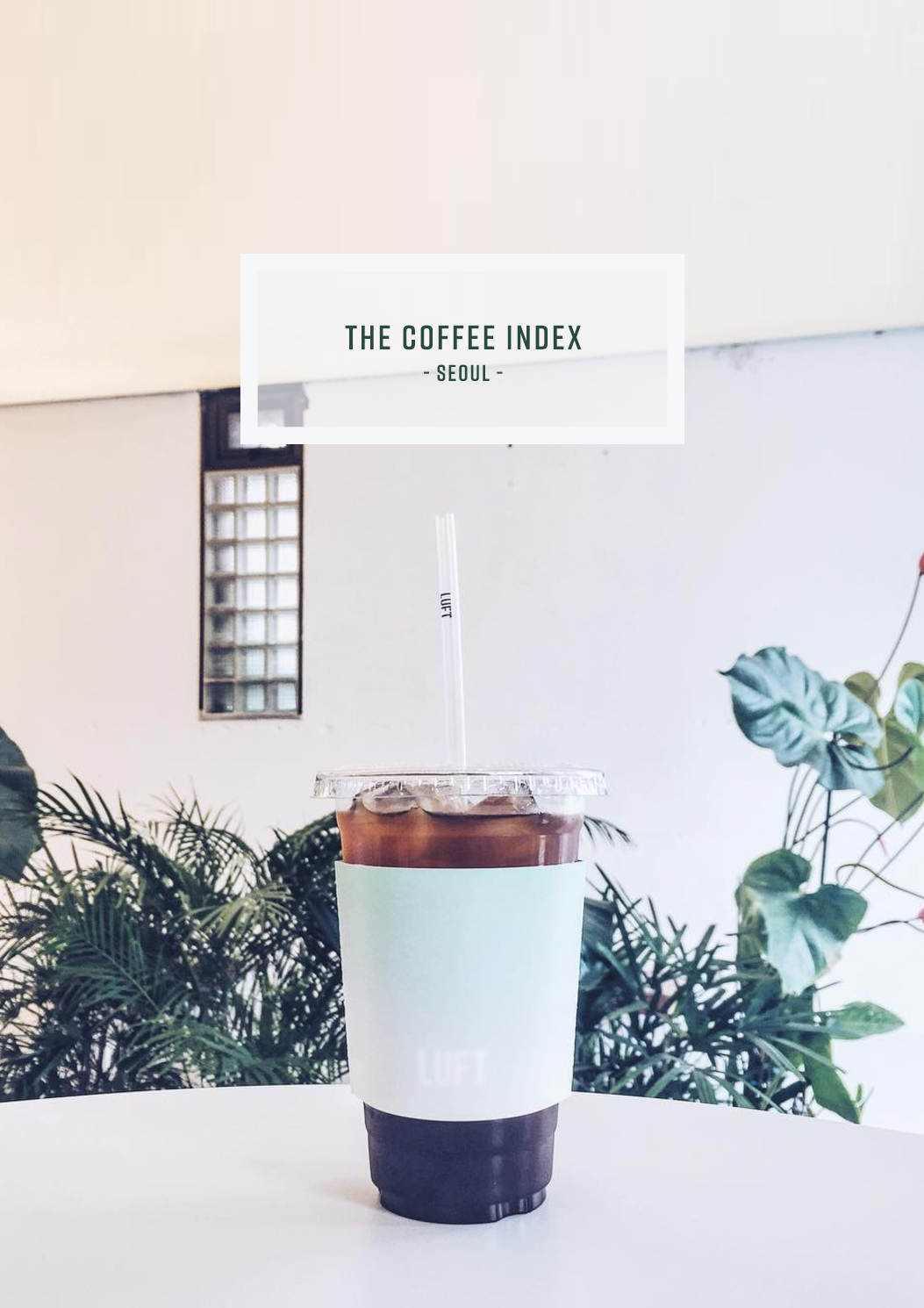 After more than 8 years in academia, coffee runs in my veins, and caffeine has lost its magical ability to keep me awake. It does, however, keep me focused, tastes good, and gives me 4-6 hours of guilt-free studying time at a coffee shop. With the exception of exam weeks, I study better in coffee shops than I do at the study halls at the school library. As a consequence of this, I am on a constant search for coffee shops that ticks off my 4 requirements for a good study spot:
Not-awful tasting coffee
Fast and reliable wifi
Comfy and fresh interior
Funky music (that doesn't distract me)
As it turns out, Seoul has plenty of these. As a matter of fact, I'm sitting in one of them right now (Shout out to Analogue Garden. They serve the perfect glühwein in the winter). As my time in Korea comes to an end, I've decided to gather all my coffee hangouts in one comprehensive list, so that future expats can appreciate the same places I've loved for the past two years. So without further ado, here is my Coffee Index for Seoul.
*This index will be updated as soon as I drink more coffee & study more.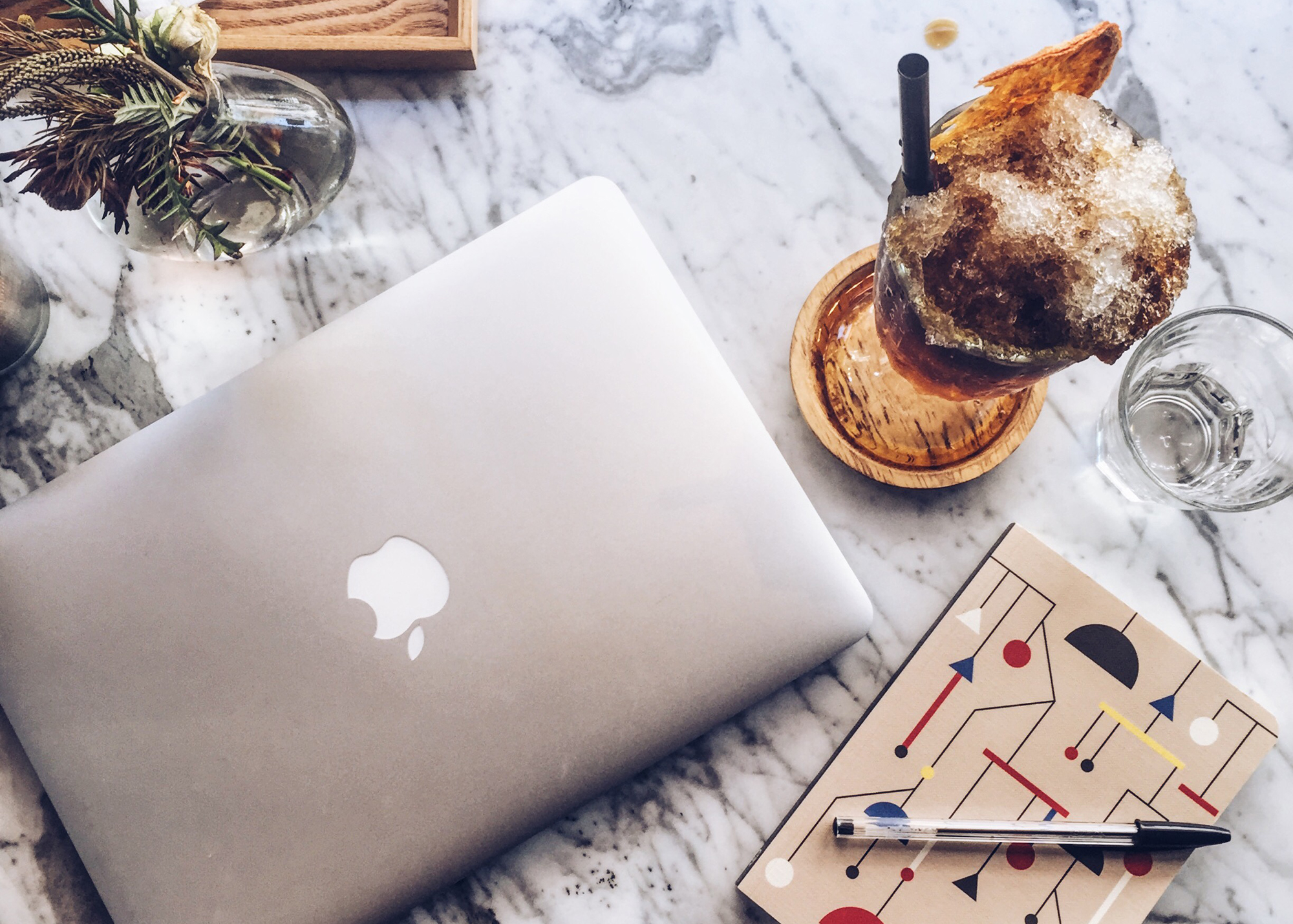 Acacia Cafe

Address: 31-1 Dosan-daero 13-gil, Gangnam-gu, Seoul.
My favorite place to spend Sundays when I don't want to study but I don't have a choice. For every 2-3 hours of reading/writing/researching, I'll get to order something new and fun from their menu. This place is often featured on Instagram with artsy photos of coffee cups, my laptop and my notebook carefully organized on the marble table tops. #noshame

Address: Seogyodong 446-58 Seoul.
Nice little nook between Hapjeong, Mangwon, and Hongdae. Sit at the long table in the middle of the room and drink some coffee, eat toast with eggs and avocado, and on cold winter days: enjoy some glühwein.

Address: 서울시 용산구 이태원로 240 1층 – 3층
Anthracite is a not so well-kept secret in Seoul. Don't miss out on this one. Well, these ones. There's one in Hapjeong and one in Itaewon. The Hapjeong one is a coffee factory (and café) located in an old shoe factory, and is a people-watching treasure on Sundays.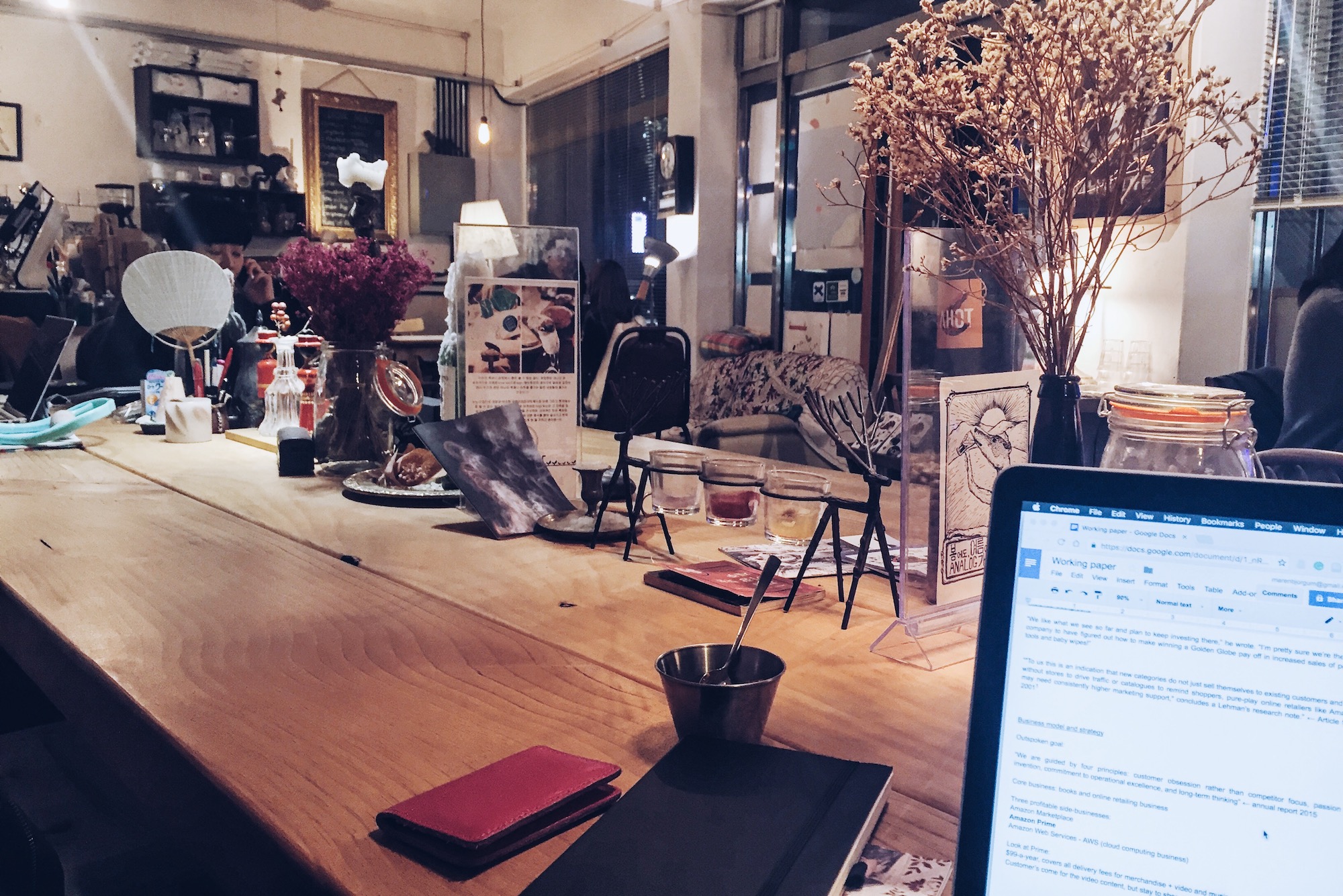 Address: 62 Cheongunhyoja-dong, Jongno-gu, Seoul.
Modernized hanok with delicious coffee served on "silver" trays. Superhipster in just the right way.
Beliefcoffee Roasters

Address: 서울특별시 마포구 서교동 양화로 11길 50. Hapjeong, exit 10. Walk in a diagonal straight through the shopping mall and exit on the other side and you'll see it straight ahead.
This coffee shop might look very inconspicuous from the outside, but inside your met with the smell of freshly ground coffee (they roast their own coffee). Order your poison of choice and make your way to the basement, also known as the main hall, and choose a spot on the stairs or by the coffee roasting space and enjoy the sweet smell and great music.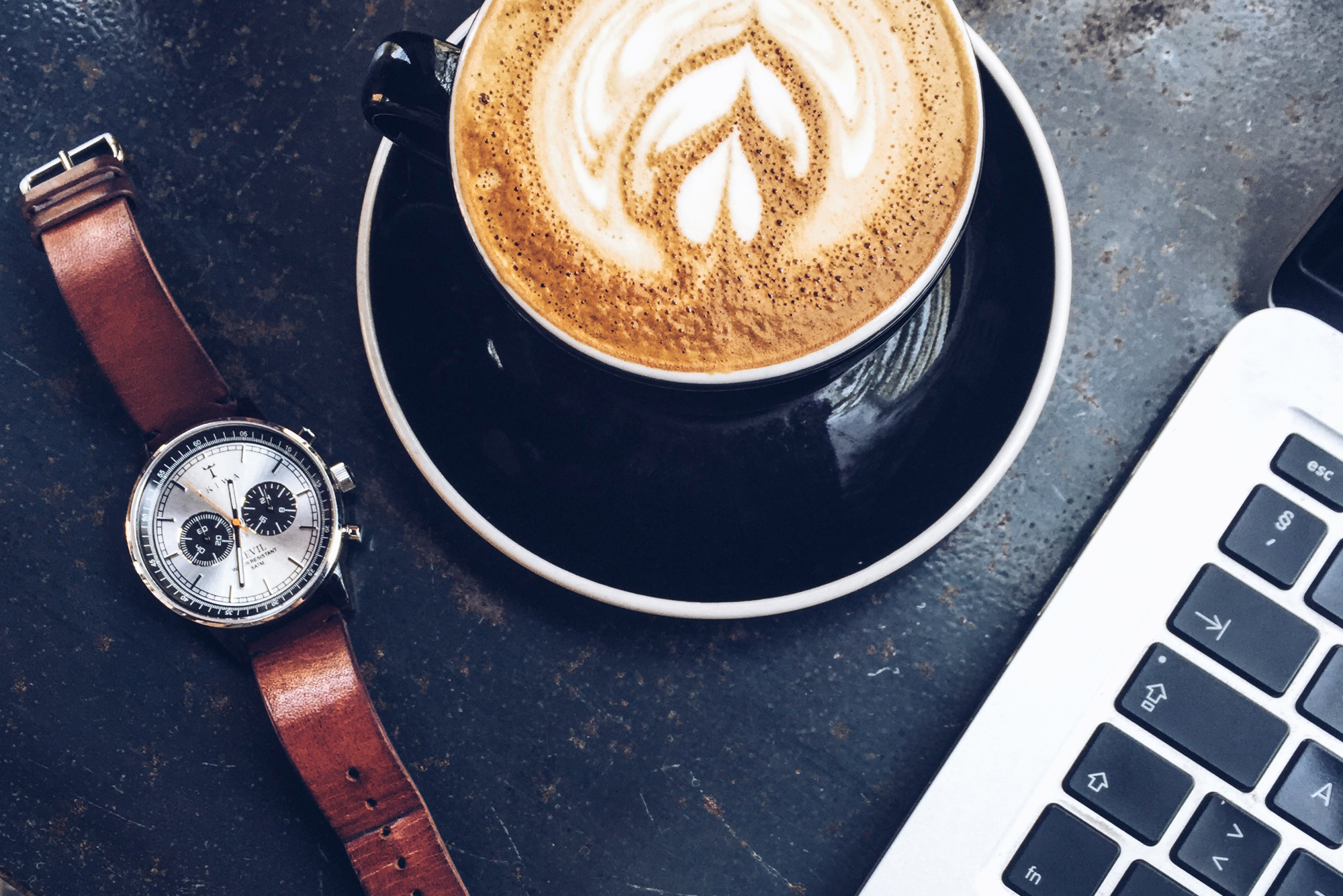 Cafe Conhas

Address:서울시 마포구 잔다리로 105. Mangwon Station exit 1.
A coffee shop made out of old containers and brick walls. Also containing a dog that lounges wherever's comfortable. Instagram loves this place in other words. Always order the flat white. Always sit outside (if the weather allows for it).
Coffee Lab

Address: 327-19 Seogyo-dong Mapo-gu, Seoul
With portafilters hanging from the ceiling, this place has been decorated by coffee lovers for coffee lovers. A great people-watching spot on Sundays.
Coffee Libre

Address: 198, Seongmisan-ro, Mapo-gu, Seoul.
Full disclosure. The space is tiny and I don't remember if they have wifi. But their coffee is amazing. Yeonnam-dong's best kept secret.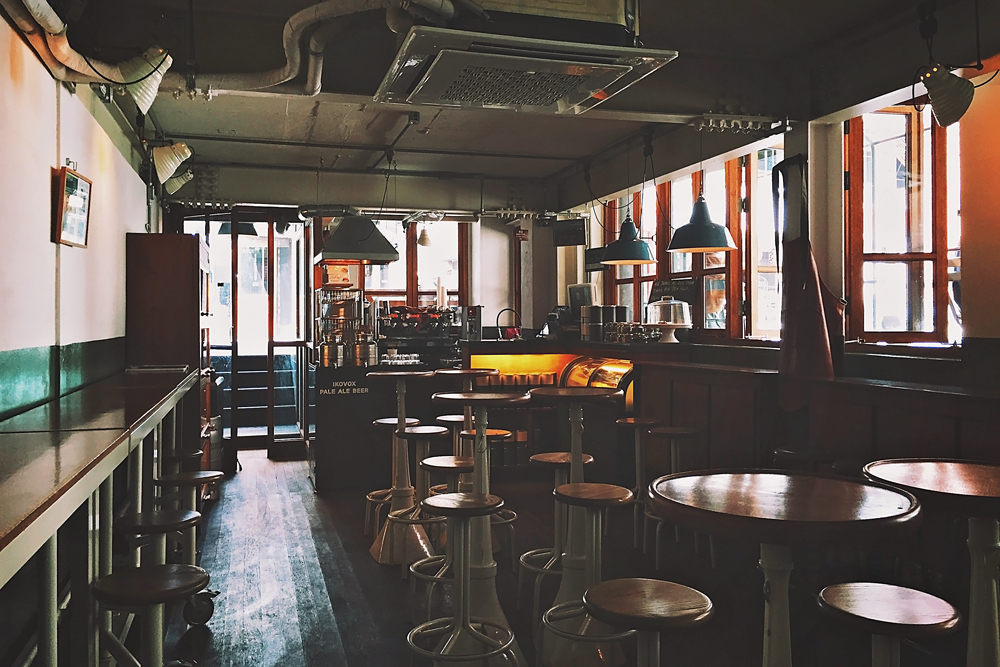 Ikovox

Address: 534-10 Sinsa-dong, Gangnam.
Unquestionably Sinsa's best coffee. Like my friends and family will know (and make sure to tell me often), I have a tendency to forget that cup of coffee because I'm too caught up in whatever else I'm doing, and thus half of any cup will be too cold by the time I remember it again. At Ikovox this has not happened yet. Stop by if you need a break from all that expensive (window)shopping! They also have locations in Itaewon and at COEX.
Luft

Address: 16 Dongmak-ro 8-gil, Hapjeong-dong, Mapo-gu, Seoul
Go to Luft if you want to drink your coffee from an Instagram-worthy gradient cup while hanging out in a dry "swimming pool". Their theme is Hawaii in Seoul, but the most minimalistic Hawaii I've ever seen. I miss Honolulu, so they get bonus points for making me "homesick". Also, rumor has it that they serve nitro cold brew.
Orang Orang

Address: 26-14 Sowol-ro 20-gil Yongsan-gu, Seoul. / 서울특별시 용산구 소월로20길 26-14
Bare concrete walls, flowers, two floors, and an amazing roof top. 'Nuff said.

Address: 683-139 Hannam-dong, Yongsan-gu, Seoul.
A café featuring notebooks, resident artists, and artwork on the walls. Also nice music, new types of coffee and funny drinks. Try the 크크프레소 KEKEpresso! What is it you ask? Whatever the barista decides to make for you that day. #SundayFunday
Taste

Address: 서울시 서대문구 대현동 101-7 혜우빌딩
Or Café Taste. My neighborhood hangout. Great if you're looking for a quiet spot in the area near Ewha Woman's University.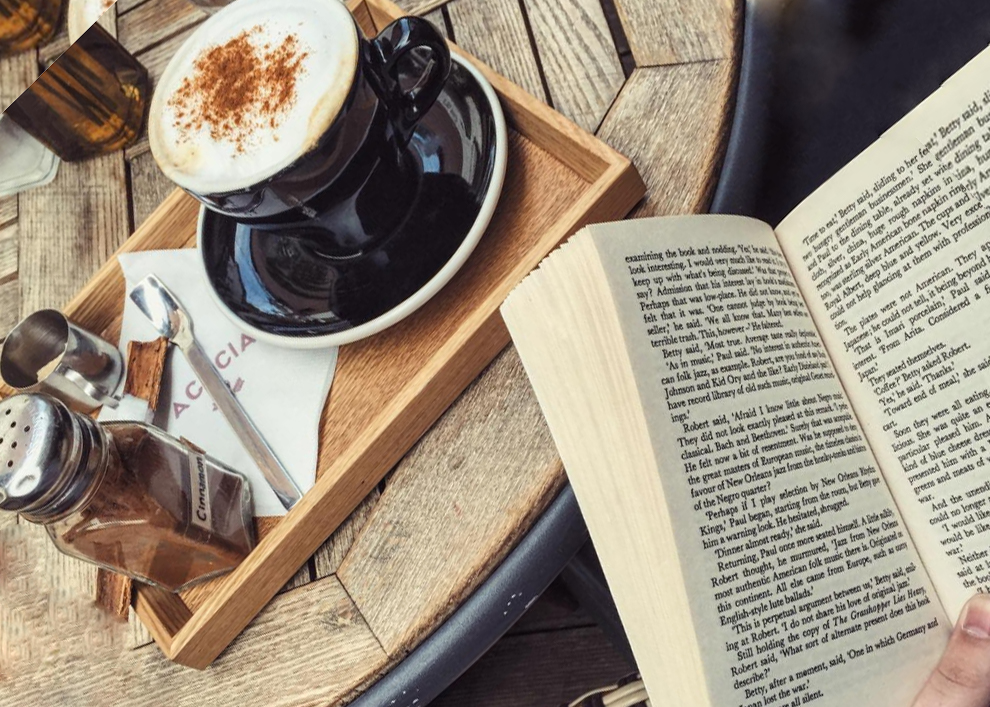 VERS

Address: 마포구 연남동 229-61 1층
Garden cafes are apparently all the rage these days, and so it would be unacceptable for Seoul to have less than forty-seven different versions  (at least!). One of them is Vers, a beautiful little shop filled with beautiful flowers of all colors and sizes. They also serve coffee, flower tea, and sangria.
Wood + Brick

Address: 110-86 Gyeonji-dong, Jongno-gu, Seoul.
Wood&Brick is a local franchise consisting of 4 shops in the northern parts of Seoul (I recommend breakfast at the Anguk-one if you're visiting Bukchon Hanok Village), but my personal favorite is the one located just north of Myeondong. Delicious, European-style bread and pastries, ham, sausages, cheese and so much more. And the latest copy of Monocle if you need a work/study break.
Do you have any coffee shops to recommend?