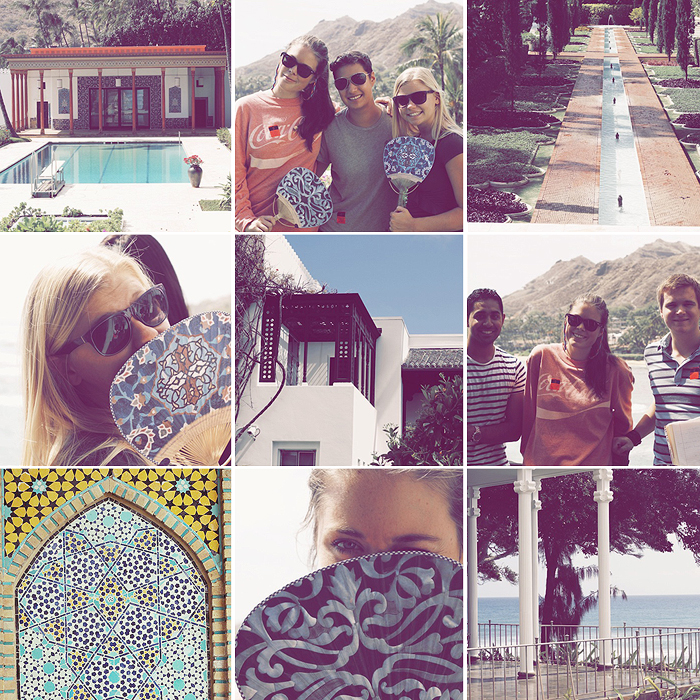 Doris Duke's Shangri La.
Yesterday I joined a couple of my fellow COM2300-classmates on a sightseeing trip to visit the Hawaiian house of "The Richest Girl In The World": Doris Duke. After her honeymoon around the world back in 1935, Doris Duke fell in love with Islamic art – and also the Hawaiian islands, and built one of the most beautiful and peaceful houses I have ever visited, by the shore outside of Diamond Head in Honolulu. We were (unfortunately) not allowed to take pictures inside the house, so if you want to see more pictures you can find some here, or google "Doris Duke Shangri La".
The art work displayed on the estate is diverse, originating from countries like Iran, Syria, Marocco and Spain, and some of the oldest artifacts are from as early as 1100CE. Doris Duke herself was the heiress of a big tobacco firm, had a passion for competitive surfing (which she learnt from THE Duke Kahanamoku), wrote for Harper's Bazaar at one point and travelled the world to pursue her love for culture and Islamic art. She had 7 different homes and a private jet decorated in her fashion, and after she died her fortune was estimated to 1.6 billion dollars. Married twice, she spoke 9 languages and had a passion for jazz music. All in all she was just one of those famous, rich celebrity philanthropist ladies that we just don't see anymore. The 1930-40s had Doris Duke, we have Paris Hilton. I will try to mask my envy.
If you are visiting Honolulu, and have a couple hours to spare, I will absolutely recommend this tour (the house is not open to the public unless you are a part of a tour from Honolulu Academy of Arts). I would give up just about everything to be able to live in a place like that. My dream home, without a doubt.
Do you have utopian dream home?