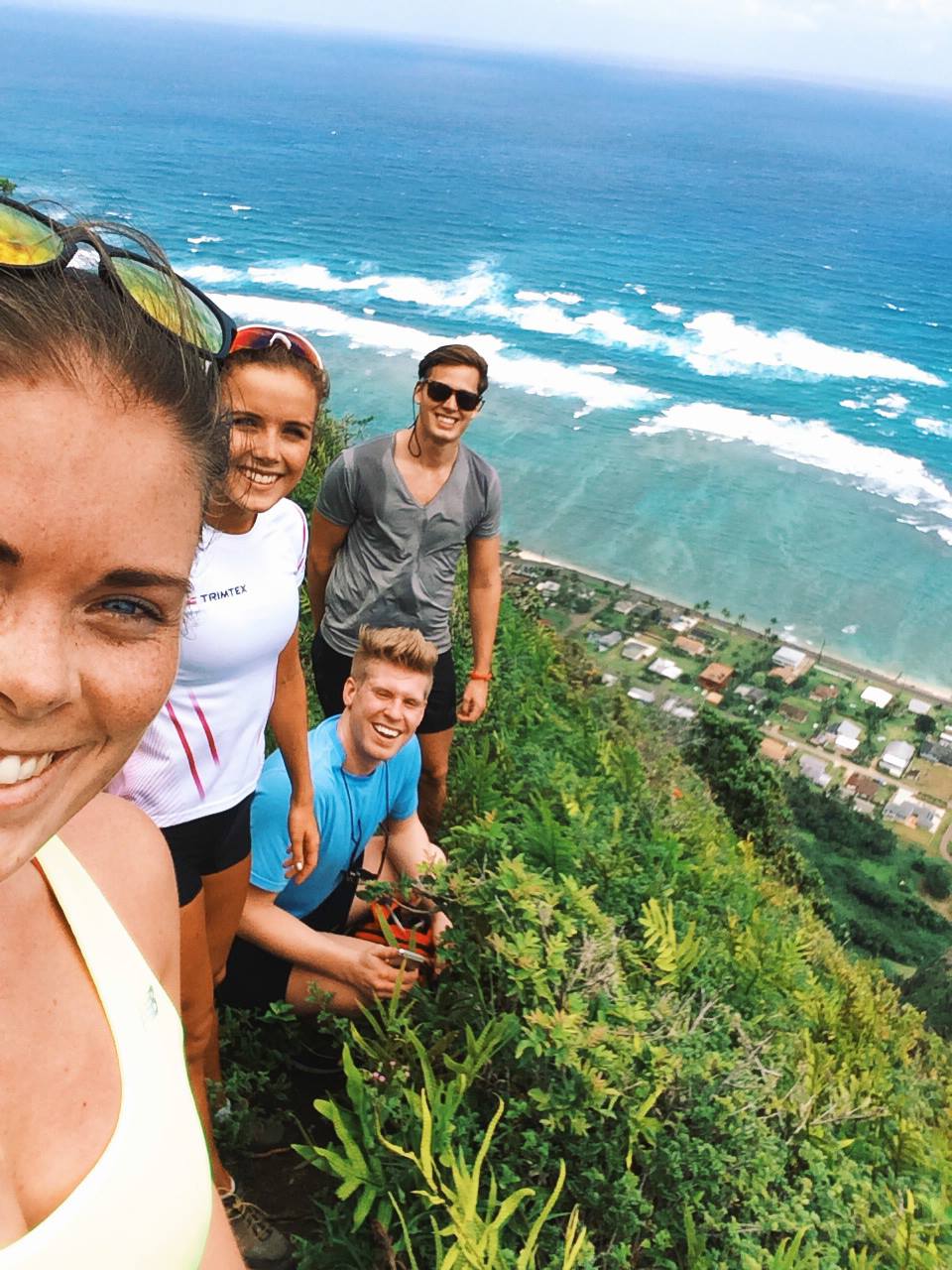 While reorganizing the blog a little bit I realized that one of the many things I haven't gotten around to showing you from my time in Hawaii is one of my all time favorite hikes: Kahekili Manana. Unlike a lot of my other favorites, the Kahekili-Manamana trail is actually legal, albeit just as dangerous as the rest of my favorite ridge hikes.
This hike really has everything! Cool and dangerous ridge lines with 200 meter drops, a waterfall, photogenic scenery on every side, some nice climbing bits and a jungle to fight your way through. On average the trek will take you about 5 hours, longer if the wind and the weather is working against you (I would strongly advice you not to do this hike if the wind or weather gods don't agree with you).
The first time we headed out on this trail, that starts and ends in Ka'a'Awa, my brand new Canon 6D committed suicide by throwing itself off a cliff (aka. freak accident). It's probably still at the bottom of the valley somewhere if you feel like going for a treasure hunt. I was in shock for the remainder of the hike, and then in a sort of camera celibacy for about a month until I got my insurance money and could get a new one. Thus, the photos from our first trip are courtesy of my friend Hallvard.
As a result of this mishap, my second and third trips to Manamana via Kahekili ridge was executed with my iPhone 5S as my trusted camera-sidekick, as I have convinced myself the trail is now cursed. The photos with great quality in this post are Hallvard's, the grainy/selfie ones are my iPhone-photos.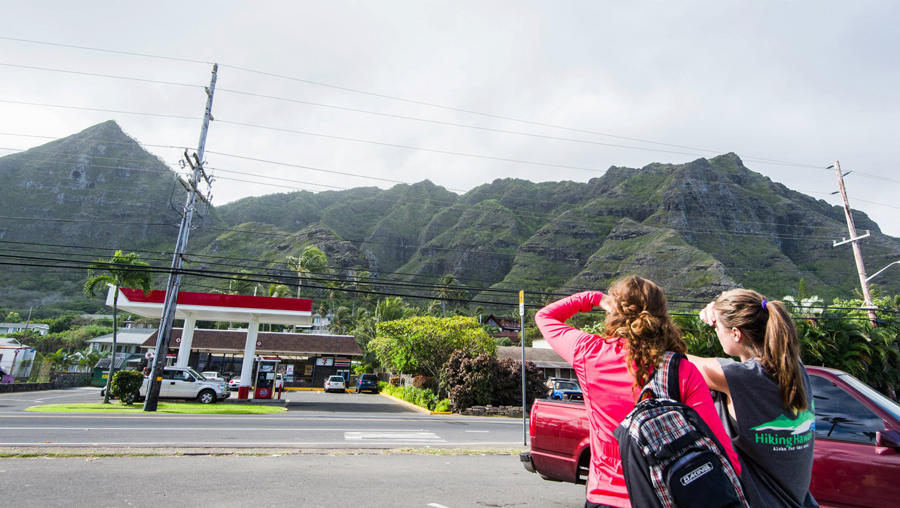 You start by walking quietly through a residential neighborhood (Huamalani Road), making sure not to disturb the people who live there. At the end of the road you'll see two houses, the trail starts into the woods between the two. From there you'll be guided by the beautiful pink ribbons that mark trails in Hawaii, as you climb up the steep hill that leads to the Kahekili Ridge. Expect climbing and loads of ropes to help your ascent (yay!). You should also expect to see a lot of makeshift rope, meaning "whatever people could find to make ropes from", including cables and cords.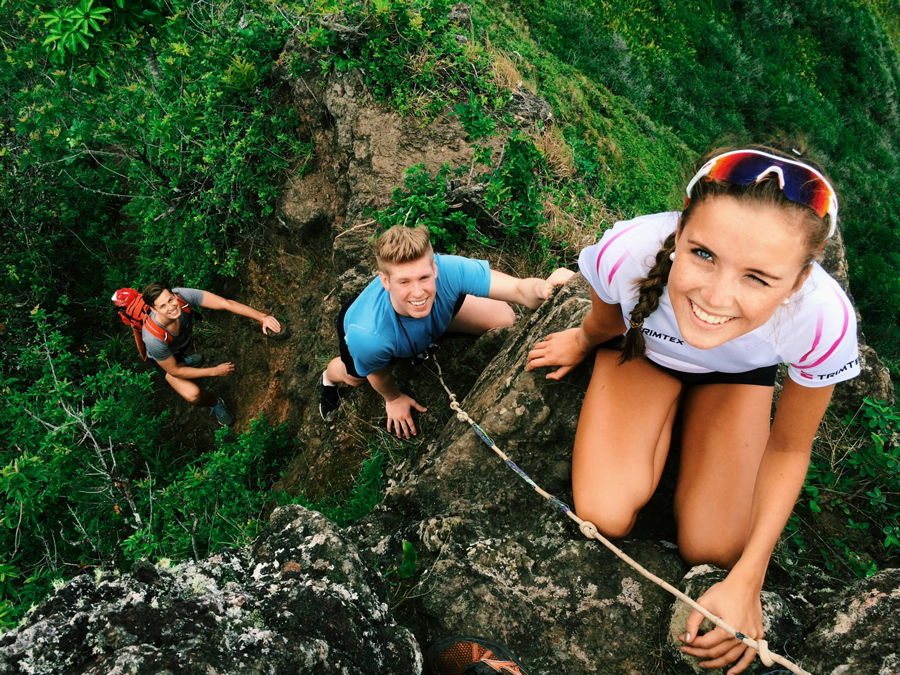 From my third trip through Kahekili-Manamana with Anders, Christoffer and my sister Benedicte.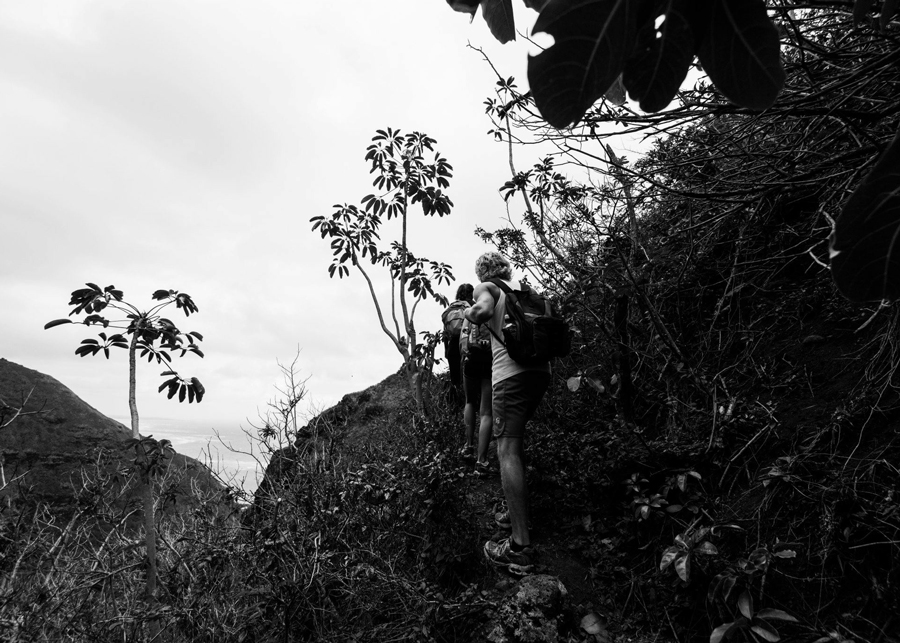 Walking through the woods along a 100 meter drop is no joke. While scaling one cliffside, my camera detached itself from the specialized  camera strap I'd bought specifically for hiking, and tumbled off the cliff. I can still remember the slow motion moment where I felt it leave the strap and the thuds as it gained momentum down the hillside before it dropped off the cliff. It was awful. I've had trust issues ever since.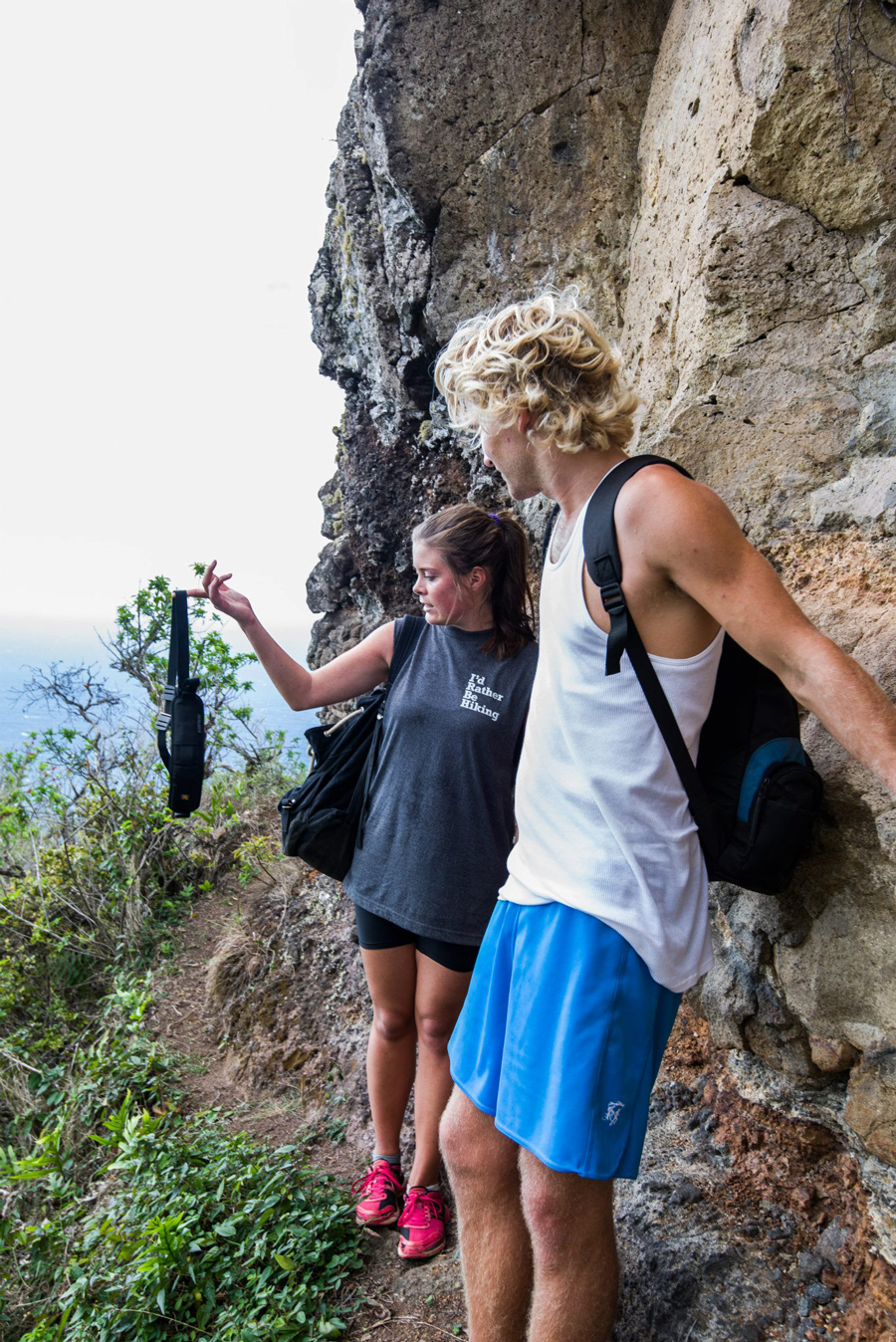 Camera strap sans camera. Still in shock. Everyone else were making fun of me. Those bastards.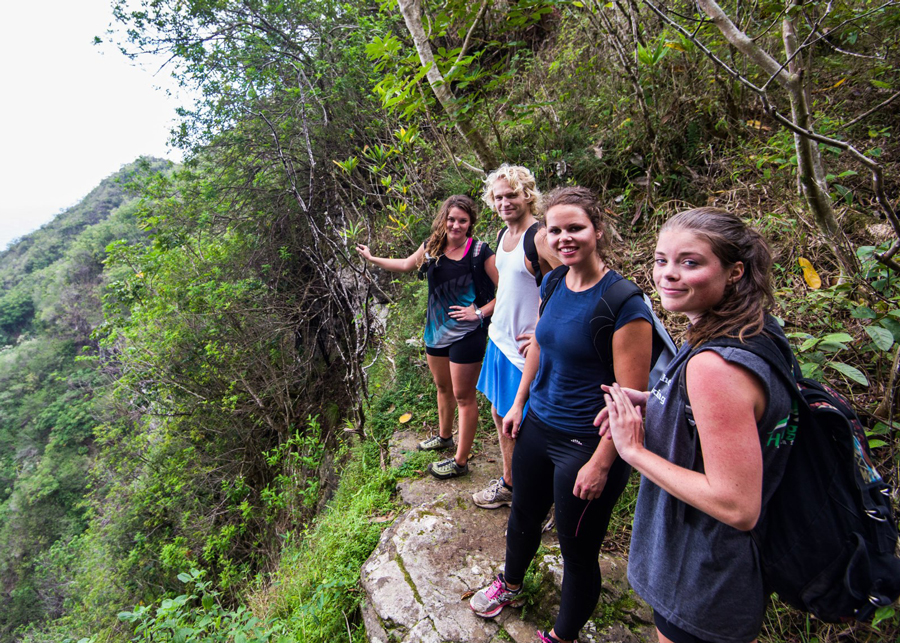 The crew from our first trip to Kahekili-Manamana: Susanna, Kim, Karoline and me (and Hallvard behind the camera). This is at the top of the waterfall that drops into the valley below the trail. I'm guessing it's beautiful during the rainy seasons.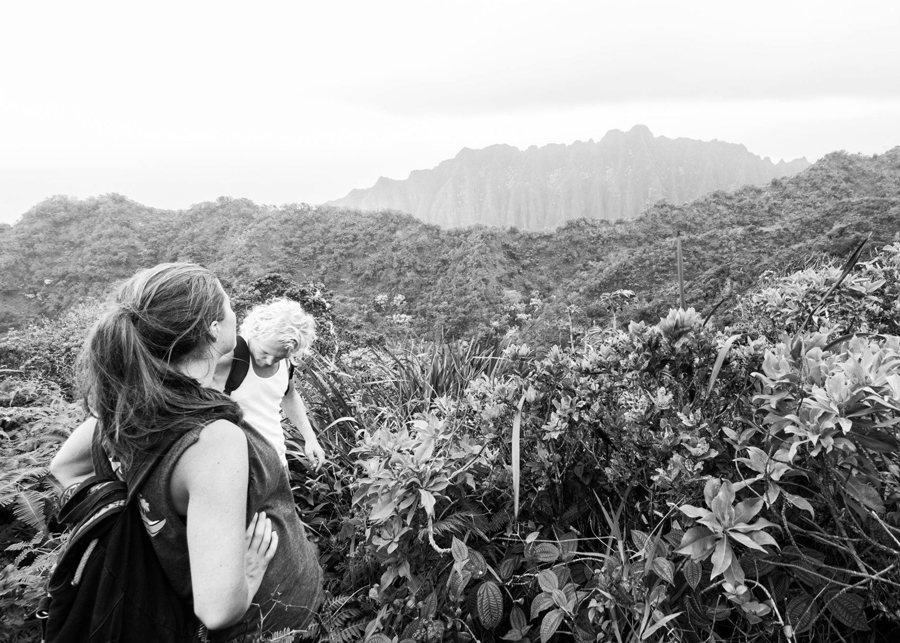 From the waterfall up to the place where Kahekili and Manamana meet, you're basically traversing through a thick but low jungle of weeds and thorn bushes. There's a clear trail, but the surrounding bush is still going to make you look like you've been attacked by a pack of deranged cats unless you cover up your arms and legs for this bit. Eventually you'll get to a fork in the road, where the trail to your left will take you to Pu'u Manamana (and the so-called Valley of Death) and the trail to your right will take you down the Manamana ridge line (which is what we did on all occasions). Then you get to my favorite part of the hike: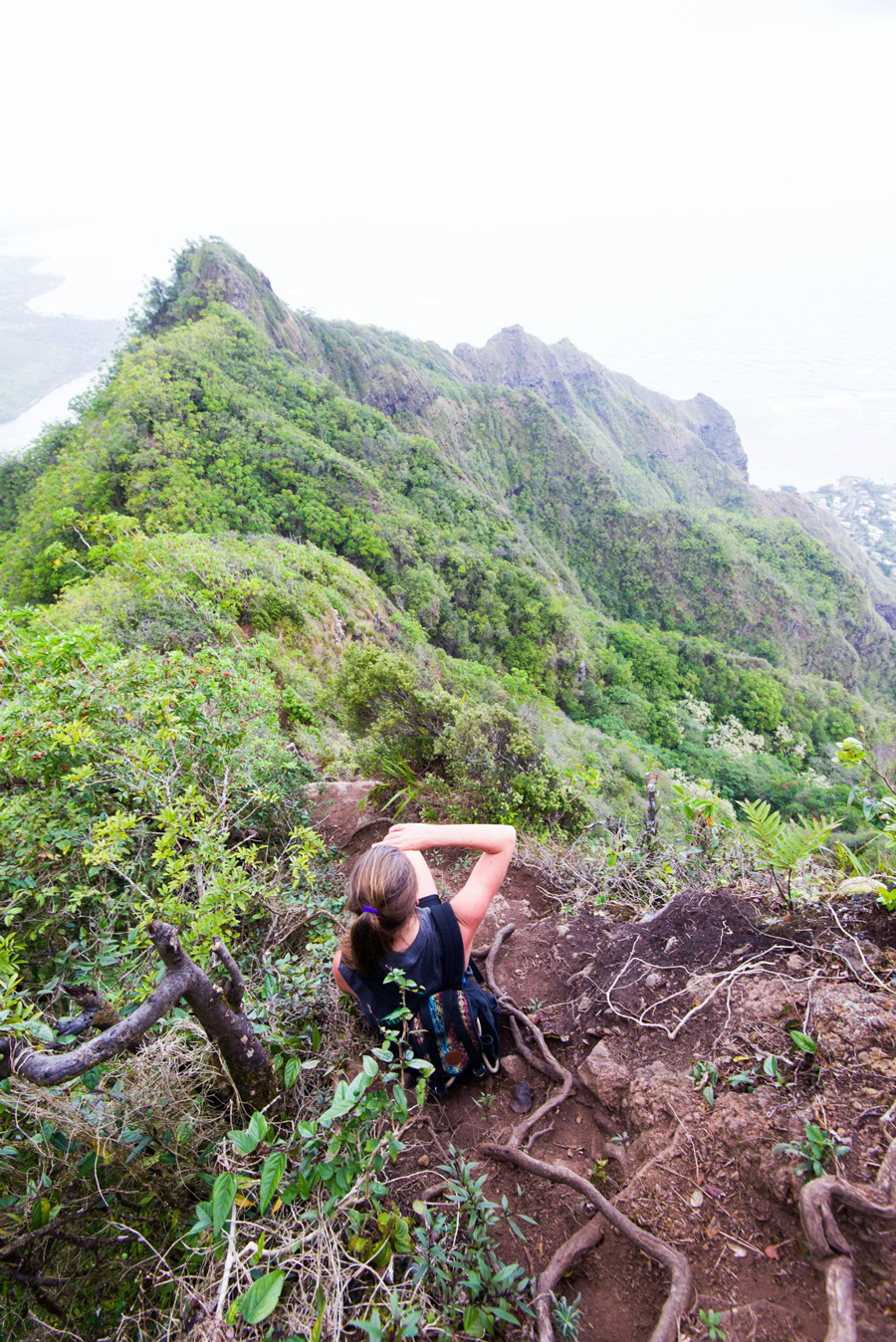 The Manamana ridge line is razor-sharp and filled with fun climbing bits, and probably a little bit dangerous if you're not used to the wonders of Mother Nature.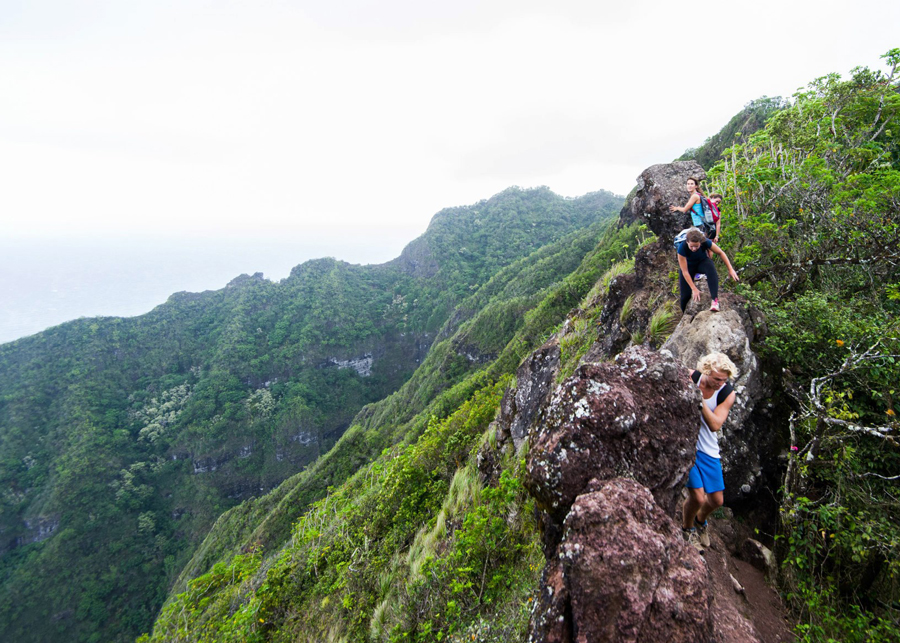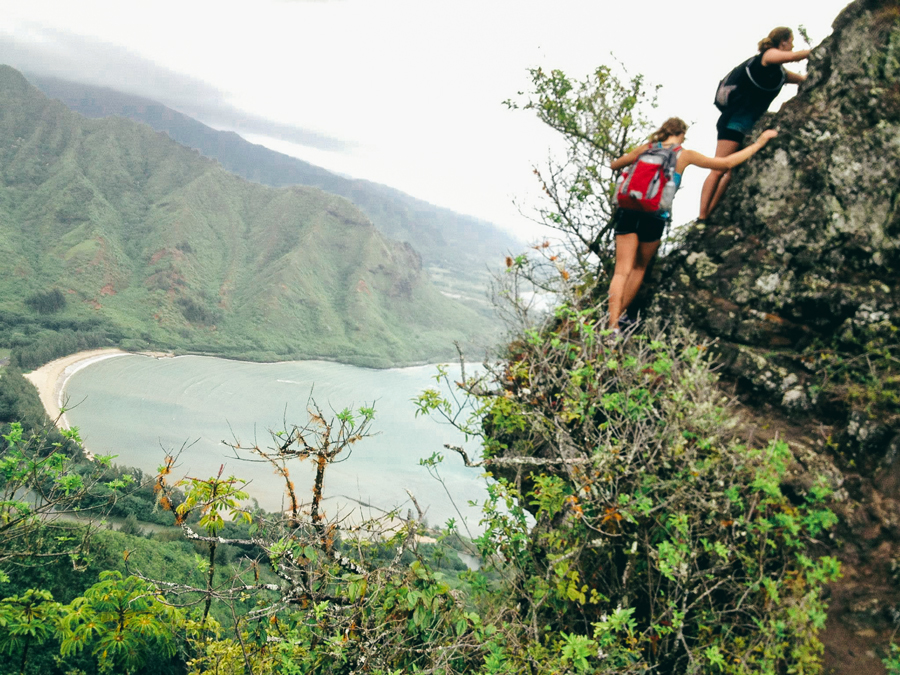 You climb over boulders (with 200 meter drops on each side) …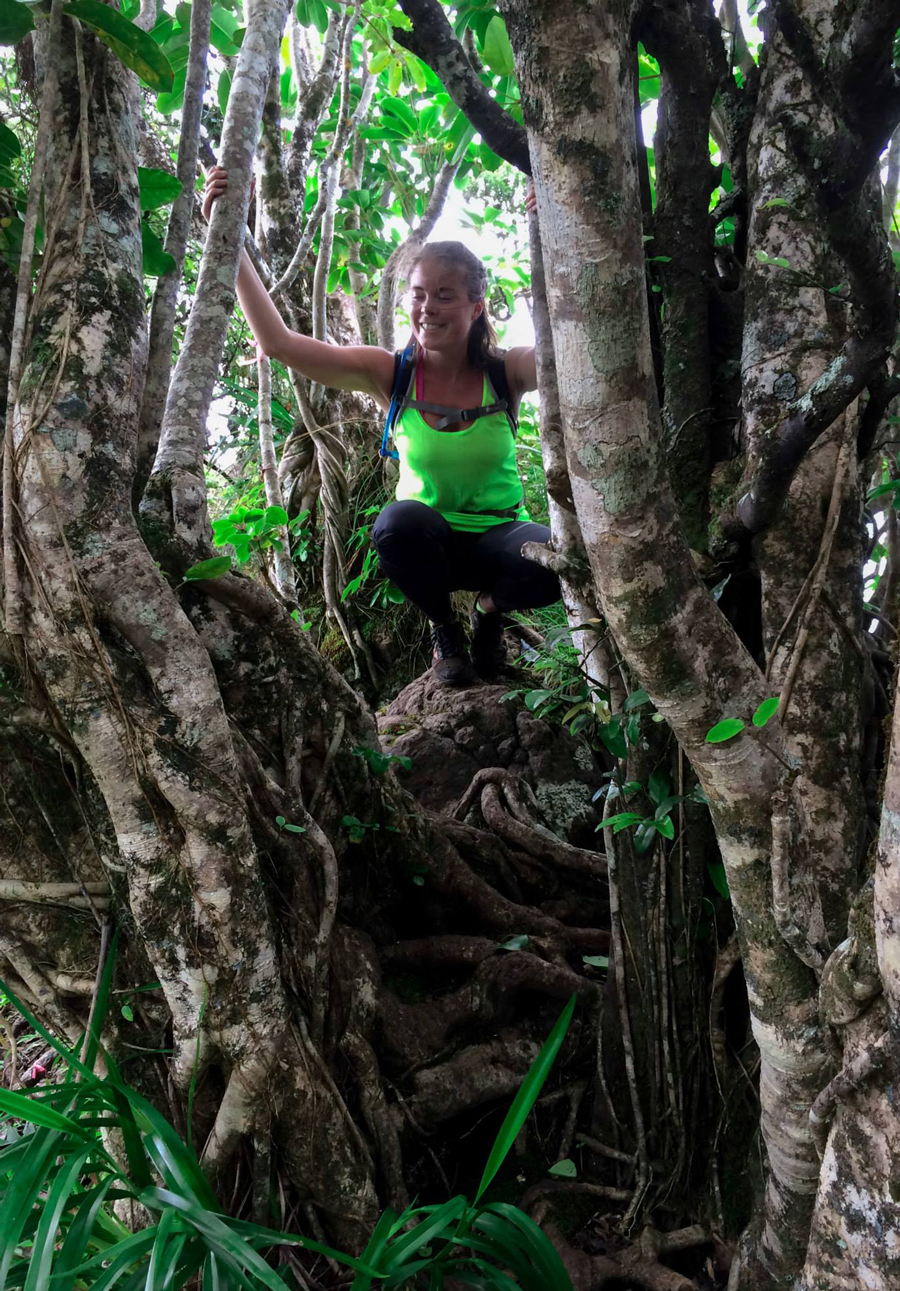 … and through real-life jungle gyms (with 200 meter drops on each side) …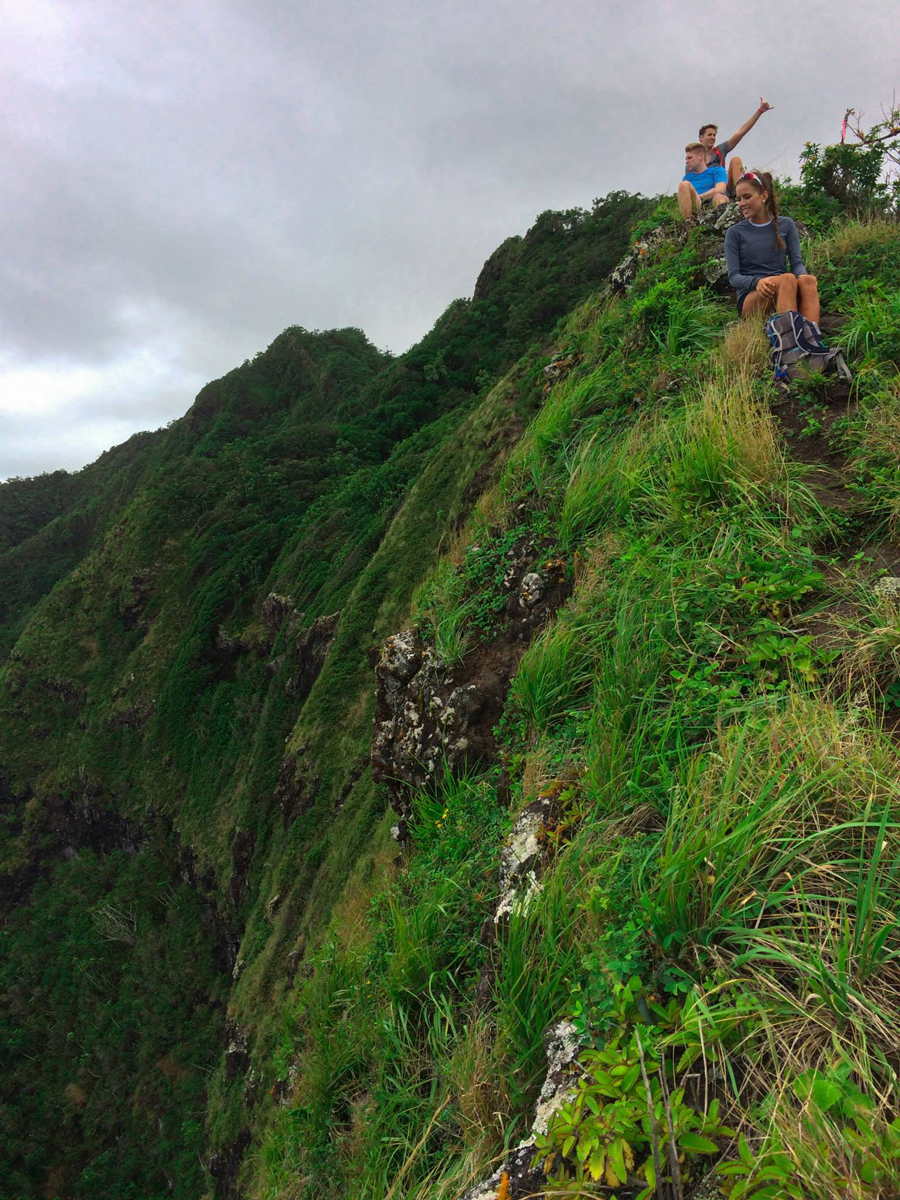 … and then you pose for pictures sitting casually on the ridge line (with 200 meter drops on each side) …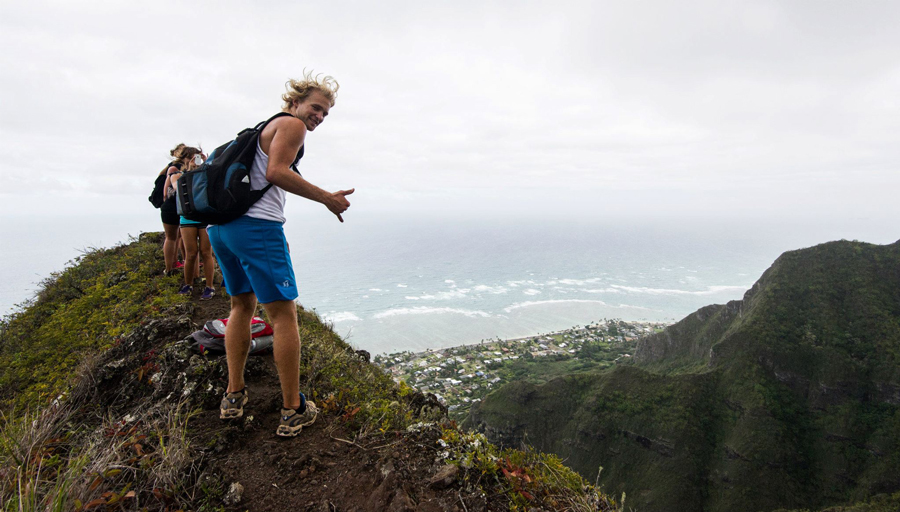 … before finally balancing across the last razor-sharp edge while the wind is howling at you.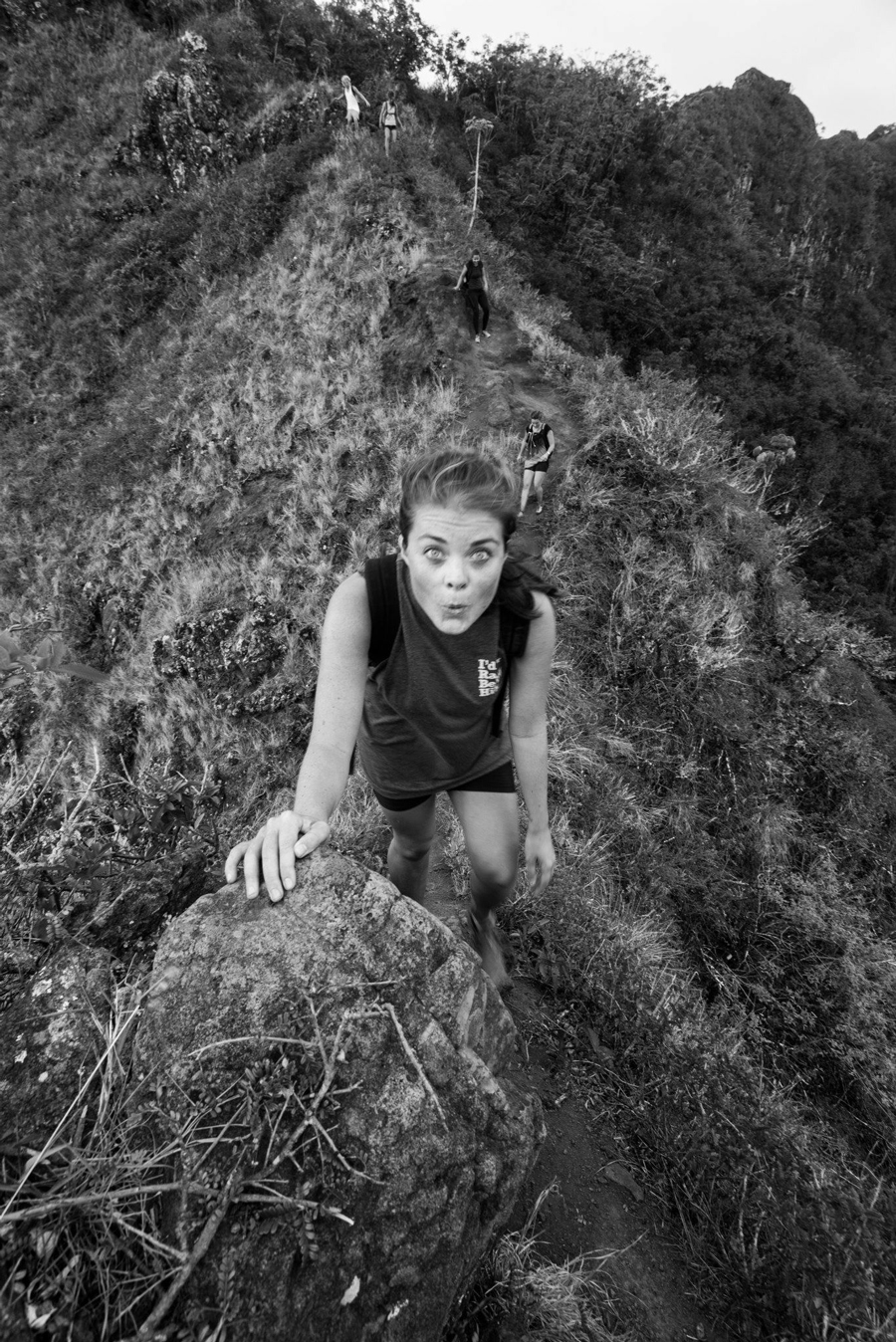 And then you climb, slip, slide and jog the last part of the trail down to Crouching Lion…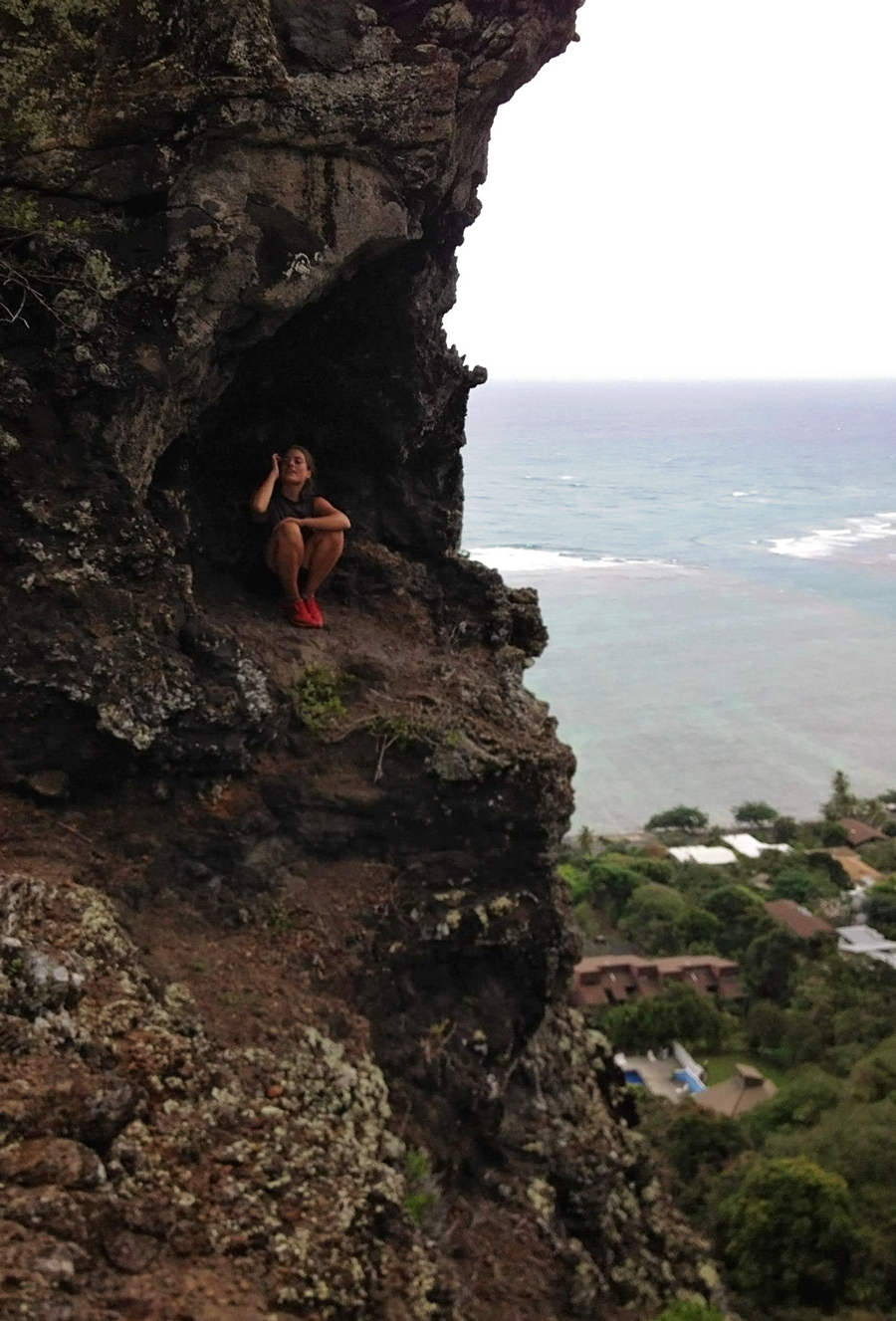 … and climb onto a ledge to hide from the wind and pose for a photo.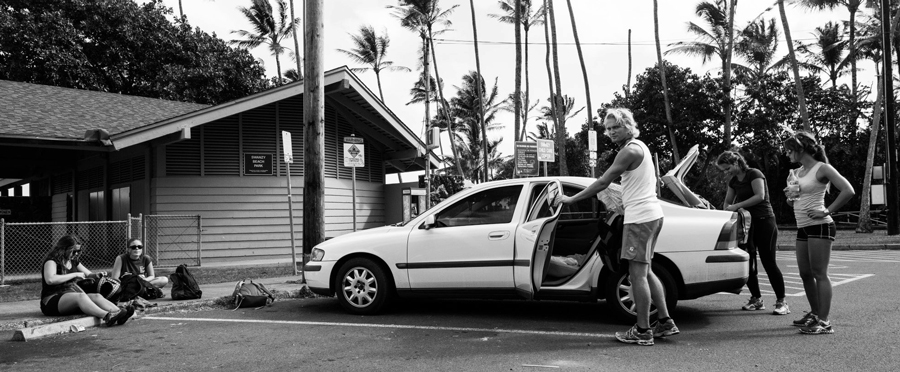 And then you continue to jog back down to Kamehameha Highway, and back to the car/bus.
If your interested in seeing more photos and "guides" from my hikes in Hawaii, and across the world, I've added a "Hiking"-tab in the sidebar. Hope they'll inspire you to get out in the wild!