While traveling should be about experiences and creating memories, in this day and age it's also about capturing that perfect photo. And then sharing it on any social media platform available (partnered with a couple of cleverly written lines of text). The last couple of weeks I've been cleaning my picture folder on my phone, and in the process rediscovered so many forgotten memories from the last three years in Seoul. And so I thought I'd guide you through the most Instagram-worthy parts of Seoul, while I myself enjoy the memories they bring back. Here are some of the places you need to visit to make your Instagram photos from your Seoul trip look gorgeous/amazing/cool/hipster/all of the above.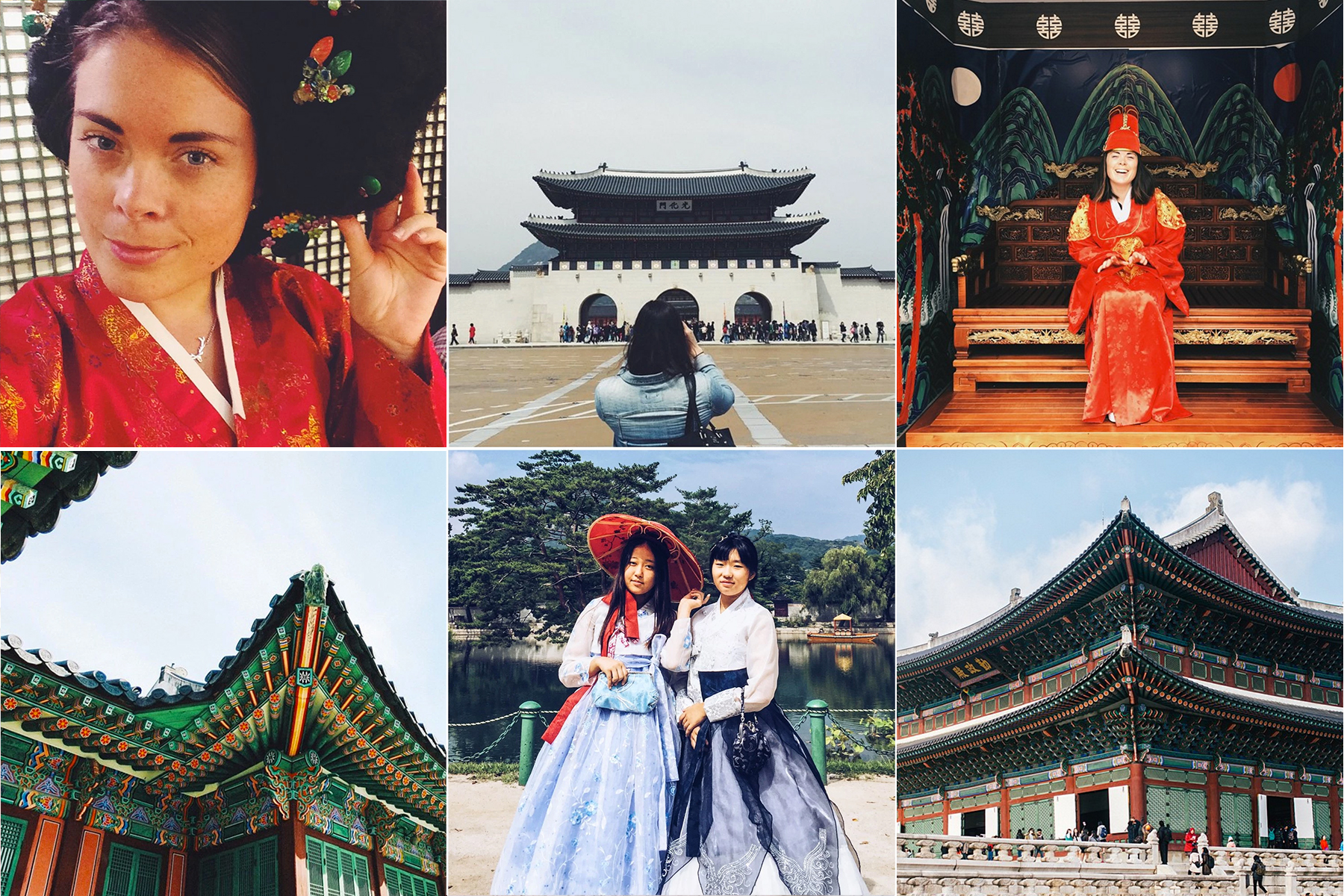 This one is a given. The main palace, situated at the base of Bugaksan Mountain (북악산), is by far the largest of the four main palaces you can visit in Seoul. The palace grounds are large, and you can easily spend two hours walking around admiring the architecture and imagine what life must have been like living there. And take hundreds of photos for Snapchat and Instagram.
While I would usually caution you from visiting the main tourist attractions on weekends, Gyeongbokgung is an exception because weekends also means that the palace grounds will be crawling with local girls and couples dressed in hanbok. Hanbok is the traditional costume in Korea, and probably one of the most beautiful pieces of clothing I know. If you're feeling really into it, you can walk down to the statute of warrior Admiral Yi Sun-Shin (one of the two guys that have statues of themselves erected in Gwanghwamun Square) and try on a hanbok for free. I did that once and got to dress up as a Korean king.
Want to try on a more ornate version of hanbok and take nice selfies too? Insadong has a lot of hanbok-studios that offer costumes, make-up, wigs and professional photography packages. Here are my photos from the time we dressed up as Korean escorts and posed with tea and swords: Hanbok in Insadong.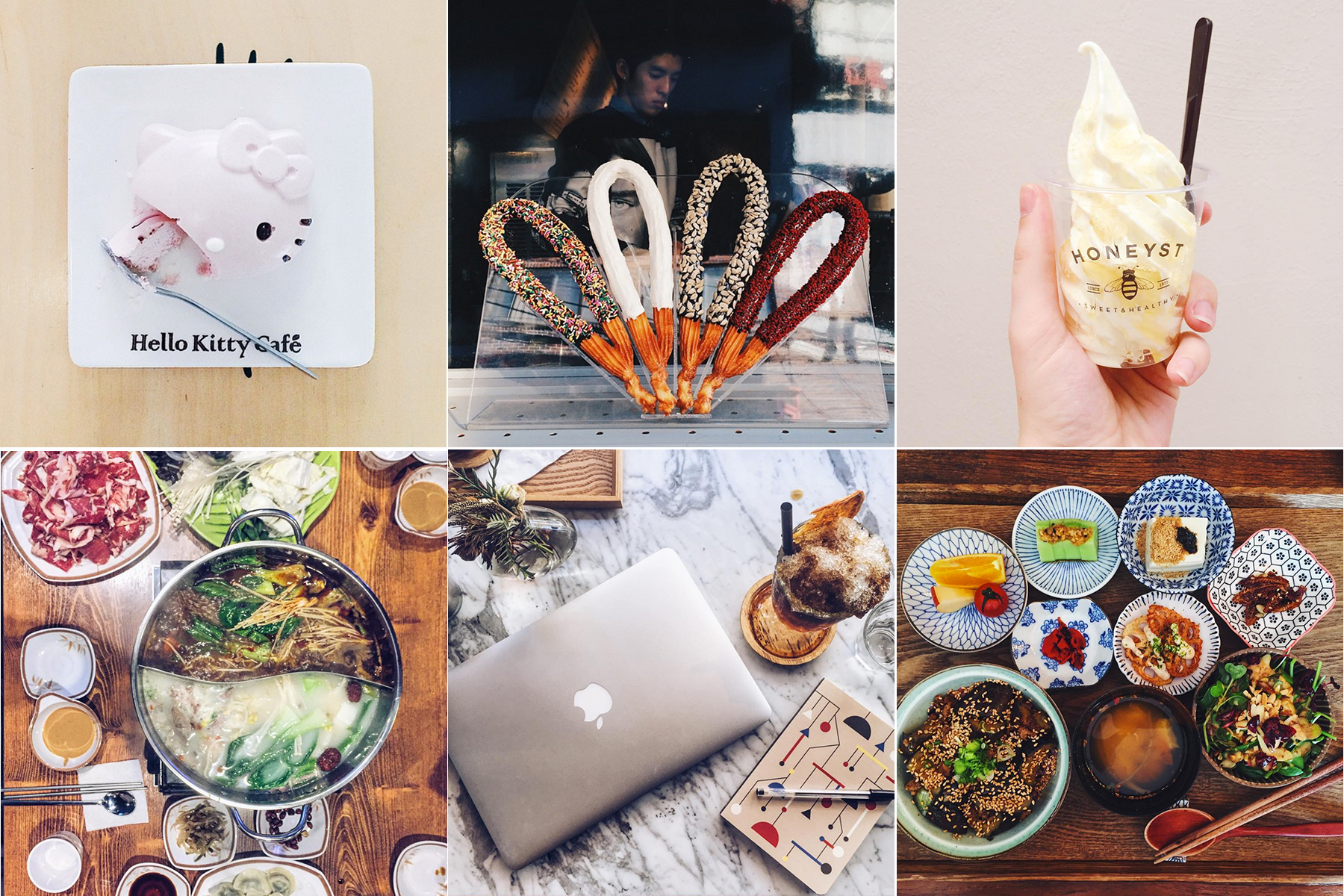 Food
Yeah, not a very specific header, but there's just too many places in Seoul to please the food-grammer. Or #먹스타그램 in Korean, which is a good hashtag to search for on Instagram if you want to discover new and cool places to eat in Seoul. My go to neighborhoods for delicious and aesthetically pleasing food are the sidestreets of Haebangchon (HBC), Gyeongnidan and Itaewon, collectively all part of Itaewon-dong. Traditionally an expat neighborhood, HBC and Gyeongnidan will fill up your hipster-quota and give you great coffee, delicious food and Instagram-fillers to boot. In the photos above you have (from the upper left):
Hello Kitty Café – While Hello Kitty is not Korean, the café is still as instagram-worthy as it gets. Try the "new" one located in one of Hongdae's many sidestreets and order one of their cakes. Adress: 364-14 Seogyo-dong, Mapo-gu, Seoul.
1Q84 Churros – Korea is big on churros, and this place in the Ewha Woman's University neighborhood is my favorite. If you're ever in the area, stop by and try one. Adress: 5 Ewhayeodae 7-gil, Seodaemun-gu, Seoul.
Honeyst – for soft ice with honey and salt. Yum! Adress: 서울특별시 용산구 325-6.
Chinese hot pot – Don't remember the name of this one, but it's in Sinchon and their food is pretty amazing. Also, the yin-yang shape of the pot (which keeps the two different broths separate) makes for great photos. Adress: 14 Yonsei-ro 5ga-gil.
Acacia Cafe & Bistro – On those days when I don't want to study, but I really really have to, I'll take a bus to Garosugil and hang out at Acacia. Their coffee is excellent, their salads are pretty delicious, and their marble tables and wooden trays are just what my Instagram (and soul) needs. Adress: 31-1 Dosan-daero 13-gil, Gangnam-gu, Seoul.
Mesiya – This place is a treasure. Mesiya serves Japanese food, with only item on the menu every day. It is served around one big table with room for 12 guests. Expect a line if you get there on a Sunday. Here's a video from the place.
Want some dessert? Here are some Instagram-worthy dessert places to visit. Also: coffee!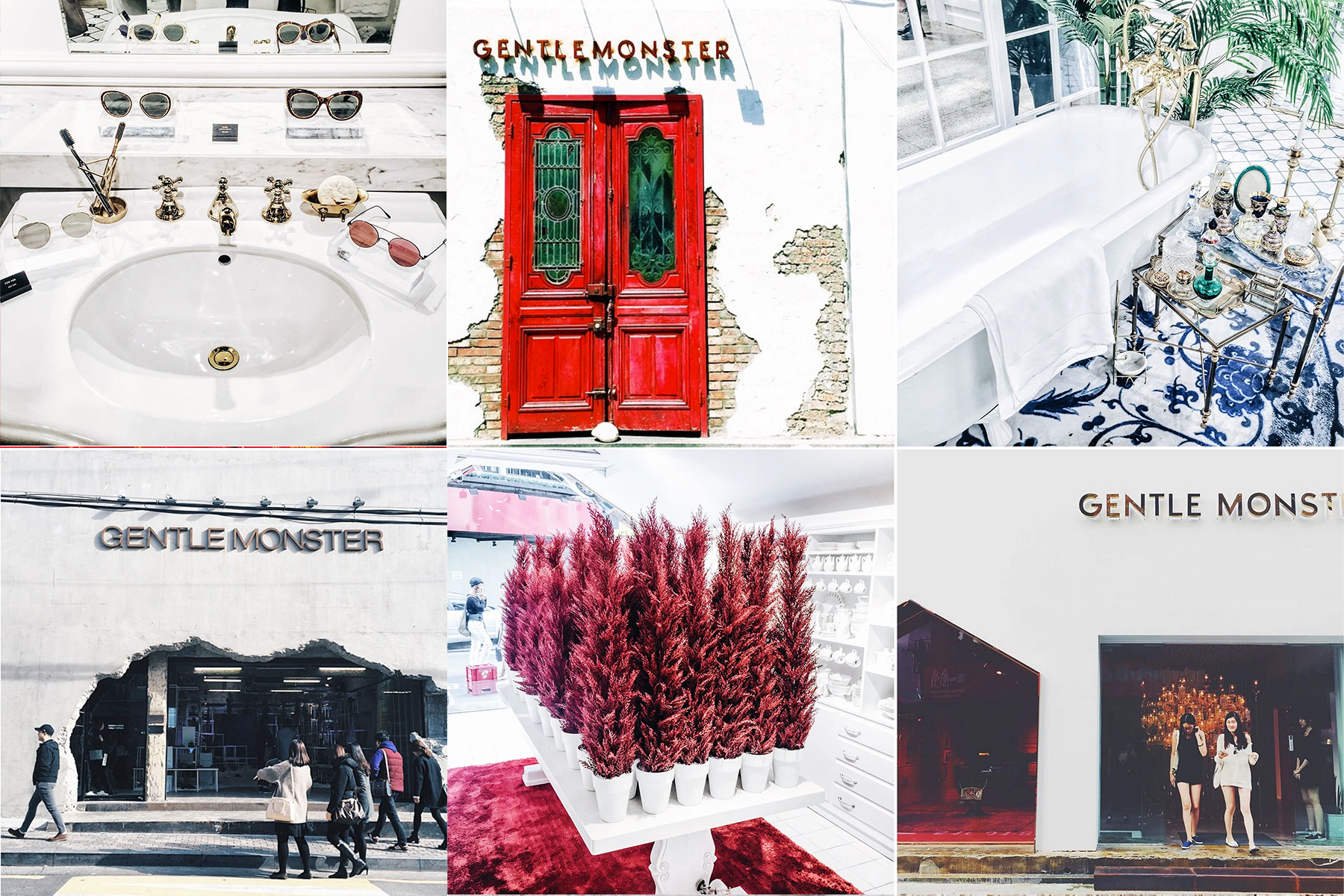 Gentle Monster's showrooms
Is it an art gallery? Is it the location of a magazine shot? Is it the apartment I've been dreaming about my entire life? No, it's Gentlemonster's concept stores. Located in Garosugil, Hongdae, Nonhyeon and Bukchon, these showrooms are worthy of both your time and Instagram-space. Make it a Snapstory actually. Here's an overview of their Seoul locations.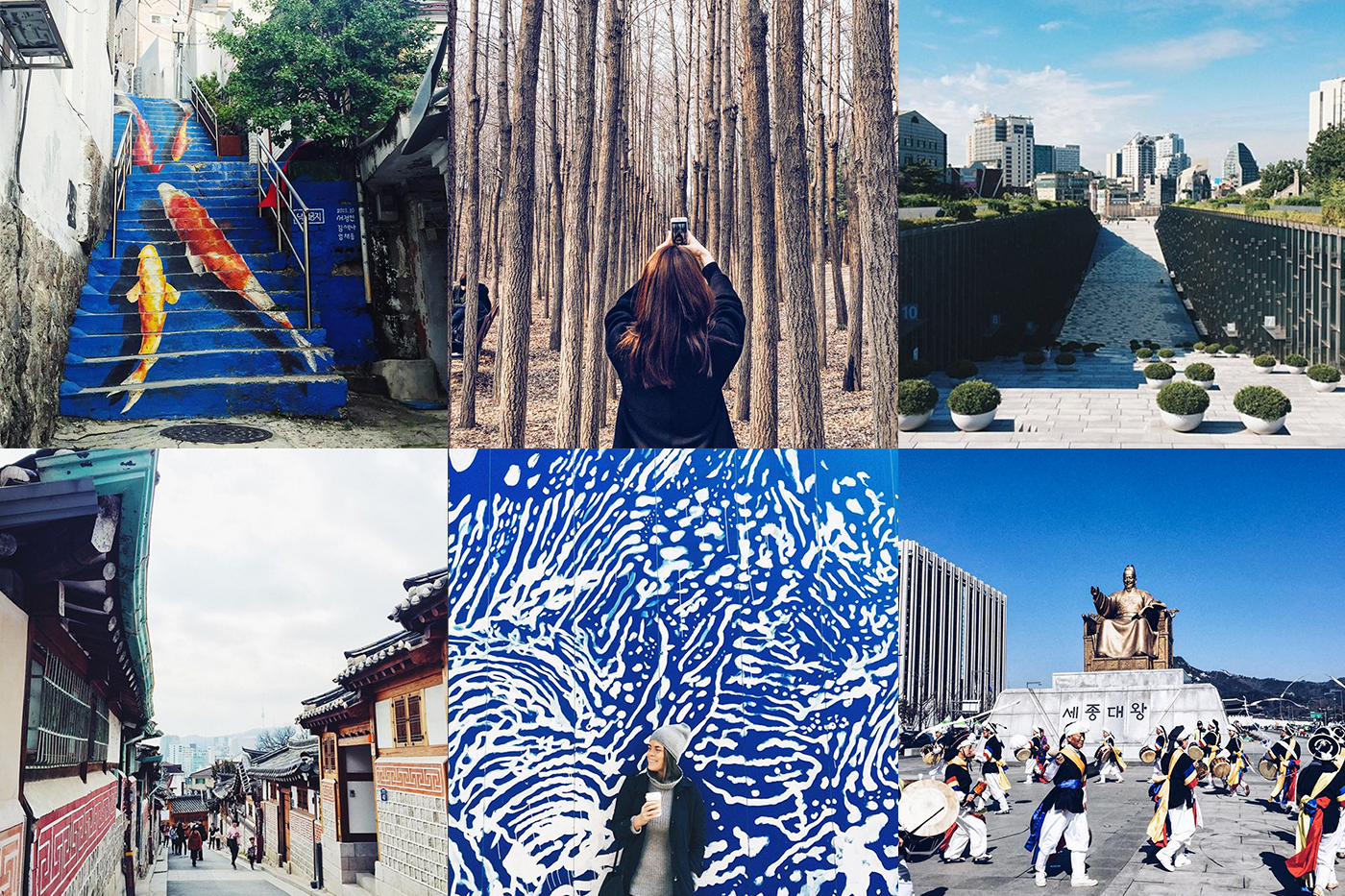 Walking is always a good idea
Whether you take a trip through Bukchon Village to look at the old hanoks (bottom left photo) or watch whichever festivity is being celebrated at the city's main celebratory spot: the Gwanghwamun Square (bottom right photo). Visit a university campus (like Ewha Woman's University in the top left photo), the true churches of Korea's main religion: education. Is the weather nice? Hang out at Seoul Forrest (photo top center). They have deer!
Or do what I love the best: just walk. Get off at random subway stops and walk around the neighborhood. Suggestions for where to start: Hyewha, Samcheongdong, the area between Hapjeong-Sangsu-Hongdae, Sinsa, Cheongdam, Noksapyeong and Hannam (visit the D-museum).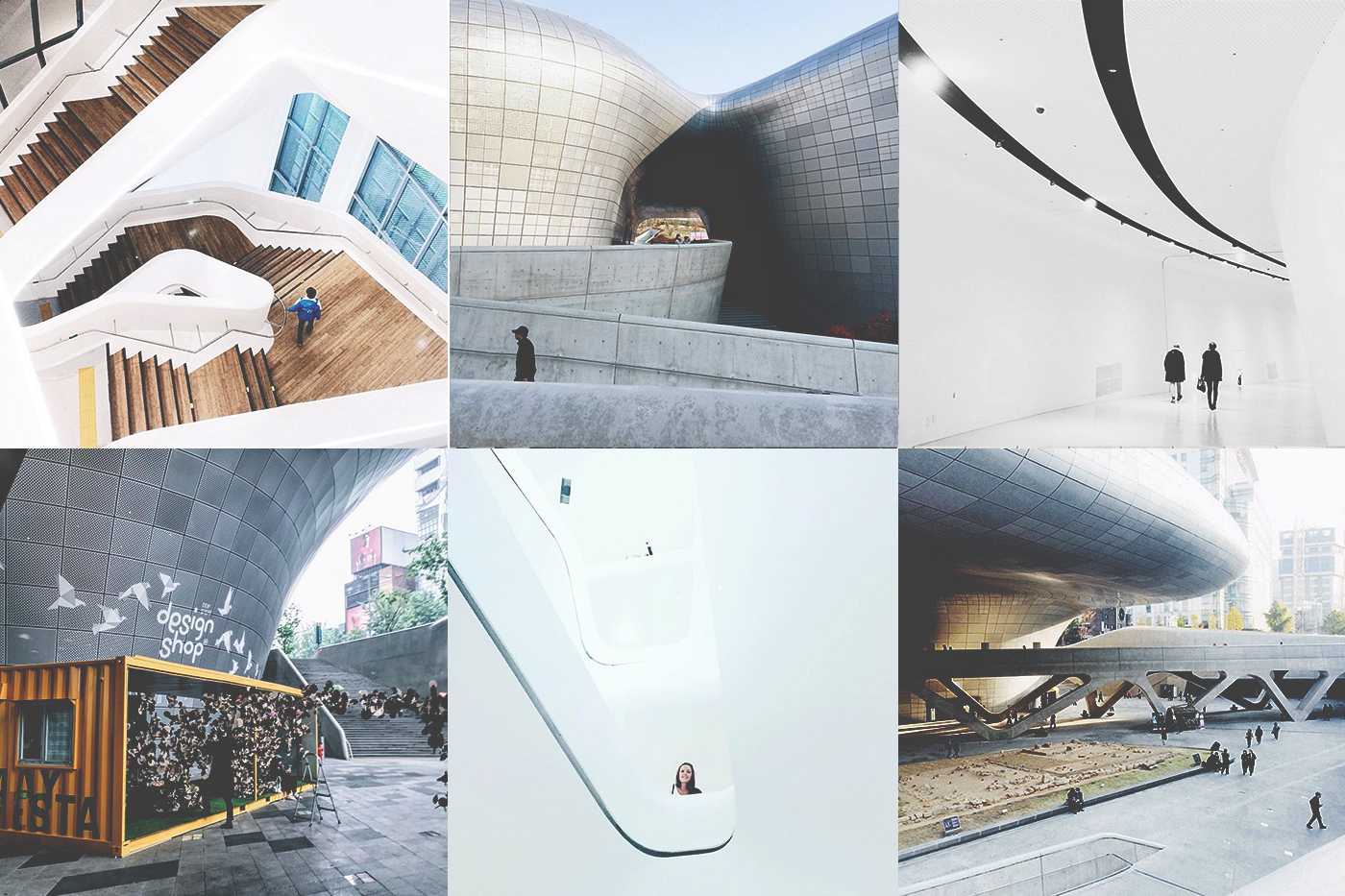 Dongdaemun Design Plaza
Designed by the late Zaha Hadid, the spaceship-like structure is a tourist hot spot, and for good reason. The go-to venue for art exhibitions, conventions, and Seoul Fashion Week, and also many Seoulite's #OOTD(outfitoftheday)-posts. Make sure to walk around the place both on the inside and outside. Hang out in the much-instagrammed staircase and grab a coffee in the gift shop halfway through the "design pathway". Check out a map of the place here.
Enjoy Seoul (on Instagram and off it)!